I read like crazy this month and I LOVED it. No coincidence I had a great month and felt amazing. I'm currently on a quick girls trip to sunny Arizona which will hopefully result in even MOAR reading by the pool. Most of my reading this month can be attributed to Rainbow Rowell. Highly recommend. Read ahead.
Attachments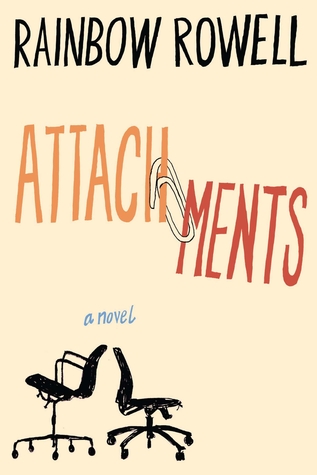 Lincoln is a shy, awkward IT guy still nursing his broken heart (a decade in the making). He spends his nights monitoring the email of a small newspaper company. He discovers the hilarious and personal emails between two employees: Jennifer and Beth. He is torn between the obligation to report them, the guilt he feels at creeping on them, and how much he loves reading their funny, supportive, and sometimes emotional correspondence. Eventually he discovers his feelings are growing strong, but are they real? Can he say anything? Should he tell her and scare her off, or keep the secret and feel the crushing guilt?
I devoured this book in under 48 hours. The format, alternating between Lincoln's narrative and the email correspondence, is quick and easy to read. For most of the book nothing pressing happens, yet I found myself pressing on to find out how Sam broke Lincoln's heart, what's wrong with Jennifer's marriage, how did Beth come to be with someone like Chris? The ending is quick, satisfying, and wonderfully romantic. I've said it once and I'll say it again: This makes You've Got Mail look like Saw 5. (I stole that from Leslie Knope but I stand by it.)
Good
Quick and easy to read. You almost forget you're reading an actual book, until you hit a particularly funny or well-written phrase that makes you stop – but in a good way.
The characters felt so realistic to me. They're flawed and sensitive and tangible. Lincoln reminded me so much of an ex-boyfriend. The emails reminded me so vividly of the gchat conversations I had with my best friend Katie when we worked together at BYU. It's just REAL. Like it could happen.
Dialogue does the heavy lifting. Basically all of the character development and exposition for Jennifer and Beth comes through the emails, not narrative. You'd think that would make the characters very two-dimensional, but it actually made it incredibly vibrant.
SO FUNNY. I LOLed several times.
I loved how much it reinforced the female friendship and support. Jennifer and Beth needed one another. Their friendship was so heartwarming to me, even when it went through rough patches.
Love looks different to different people. All of the relationships in the book are so different, and it was so interesting to compare and assess them.
Less Good
I guess I just didn't understand the mom/sister side story for Lincoln? I wanted to flip through those pages. I suppose Lincoln needed more depth, but I could have done without it.
The ending seemed to go too fast for me. I would like to know more details, more steps. It kind of skips ahead to the "happily ever after" faster than I would have liked.
The "bad" or failed relationships definitely pinged me in the feels. I could almost painfully correlate bad relationships or events from my past with Lincoln+Sam, Beth+Chris, even Jennifer+Mitch. Overall this is probably good but I definitely did some cringing.
Eleanor & Park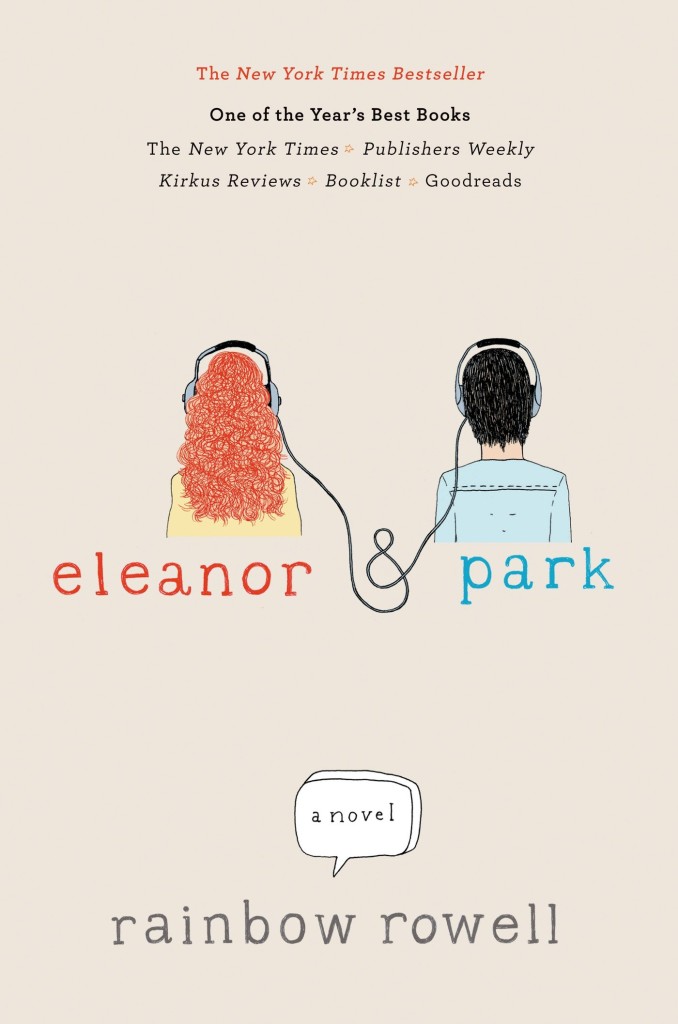 Eleanor is weird and sad and strong and colorful and smart. Park is original and sharp and emo and bored. Together they are able to become who they want to be, leaving everyone and everything behind. They deal with the traditional teen issues: family, school, body image, popularity, identity, injustice, insecurity, but they deal with them together. Despite the unlikeliness of their pairing, they fall in love and are never the same again. 
This book got a lot of hype last year and I remember lots of people talking about it. I'm not into romance books, and I wasn't particularly keen on YA fiction at the time, so I just passed on it. After I read Attachments I immediately (yes, immediately. Like 2 seconds after reaching the last page) went to the library online checkout and looked for more Rainbow Rowell books and this one was available on ebook so it happened. I blew through it in like 3 days. I liked it much more than I expected, but I still had mixed feelings. Overall: it's cute and heartwrenching and romantic and heavy.
Good
I loved the idea that Eleanor was still loveable and deserved good things, despite her pretty terrible life. I know lots of people have said that this is unrealistic, and you know what? It is. But I loved it all the same.
Rainbow Rowell does such a good job of describing and SHOWING teen relationships. Relationships in general. But the levels of emotion, anxiety, comparison, fear, passion… so distinctly teenage and so spot on.
You just root for them. You want them to be happy. You want them to be safe.
I just ate Park's parents up. I love his little mom and the turn she takes for Eleanor. You just feel so much love coming from them.
This is awful but I think that it opens eyes to domestic abuse/poverty situations. Eleanor's home life sounds horrendous, but I think it probably happens more than we'd like to think. As a teacher I remember the first time I was in a meeting to discuss a kid kind of like Eleanor, and being absolutely SHOCKED to hear the conditions in which he lived. It doesn't excuse their behavior, but it is softening.
Less Good
It's infuriating and at times disgusting. Eleanor's life and living situation is just the worst. It often made the book painful to read. I almost had to put the book down permanently because I hated Eleanor's mom so much. Like more than Richie. She knew better. She put her kids in that situation. UGHHHHH.
Wayyyyyyyyy too much language. I don't mind some swearing, but if it feels needless or especially if it overuses the f-word I'm not gonna like it.
It alludes to the fun and happy conversations they have, but usually the actual dialogue is just them fighting. I struggled the whole time to feel the chemistry between them.
I agree with everyone else who has said this – Eleanor uses Park, even if she truly loves him – she uses him. I felt like Park was always doing something for or giving something to Eleanor. CONSTANTLY. And I get that she's practically homeless and emotionally damaged, but I felt like she gave him NOTHING. Not a good example of a relationship.
I'm not sure I ~want to know what exactly is going on with her family or their history. But at the same time I hated the feeling that we're dropped right into the middle of it, with no real exposition.
Landline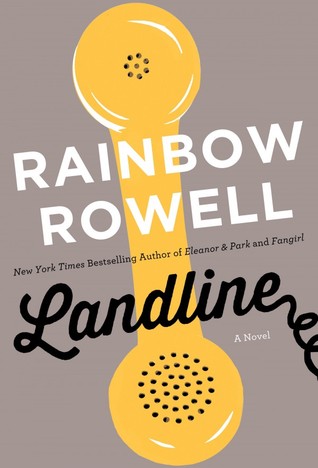 Georgie McCool is days away from landing her own TV show – her dream! But she could also be days away from losing the love of her life. Neal is her whole world, along with her two daughters, but their marriage has been slowly dissolving. She's worked late nights, dragged him to cheesy Hollywood parties, and taken him completely for granted. Now it's Christmas and he's home in Omaha and not taking her phone calls, that is… until she calls him from the landline in her old bedroom and talks to him in 1998, just before he proposed to her. 
I think Attachments and Eleanor & Park are better books, but I liked this one for other reasons. It's about marriage and family, not teenagers or dating. It's about the past and the foundations of our relationships. It's about fixing problems before they become catastrophes. And even though it deals with divorce, it's much MUCH lighter and cleaner than Eleanor & Park. And because it's about marriage it's a deeper, realer romance than the butterflies-in-the-stomach than Attachments.
Good
We're coming up on 5 years of marriage and we've got a kid. It was so interesting to see Georgie go back through their years of marriage and point out the ways that they drifted apart in the most subtle and unnoticeable of ways. Even though she has this big deal TV writer job and this somewhat unrelatable life it just felt so real and so common.
I loved her weirdo family. They just seemed like those really friendly and bizarre neighbors next door. They were very needed and comfortable comic relief.
When Georgie revisits their college romance you can't help but revisit your own. I found myself thinking about the college parties and concerts where I met and got to know The Beard. I relived those conversations where you're trying to determine if you actually can get married and make this work, even when you're very different people with no vision of the future. After years of marriage when you're comfortable and know everything about one another it's easy to forget the allure and mystery of those early days. I remembered so vividly the moment when The Beard looked up across the crowd and saw me, the second time we met.  The way he left that group of beautiful girls he was talking to and made his way over to me. And then to realize that he's the same person making a bottle for my daughter across the kitchen from me right now? Georgie connecting the two Neals helped her add the value back into her marriage.
I felt like I took the journey with Georgie – at first I'm STOKED about the new show and stressed about her ability to get it done. Then I'm torn between the show and the family heading to Omaha. And finally I'm miserable that they're not together and I could care less about the stupid TV show. Rainbow Rowell makes you feel that and move through that WITH Georgie. It's incredible.
I never thought I'd say I like time travel without the sci-fi element, but this is actually really well done.
This book preaches a very good message – your career is so important, but you will never be happy if your family is taking a backseat.
Less Good
The whole thing happens over a span of like 4 days. The time just lurches and lulls too. A million flashbacks and a time traveling conversation with Neal, nothing happening for 100 pages, then BAM twenty things happen. Back to flashbacks and some dialogue, then BAM a million things happen. It's a little weird and hard to push through at times.
Seth. Didn't like him. I felt like he was such an obvious problem from the very beginning and that Georgie was smart enough to know that too.
Neal isn't the love interest you want. I mean, I liked him because The Beard is also a huge grump who doesn't do relationships the conventional way too. And I guess it would make you hate Georgie if she was being the way she is and Neal was a perfect specimen. It might have been better to have them both be a little more likeable. But this way they're also more real and relatable. Idk.
Orphan Train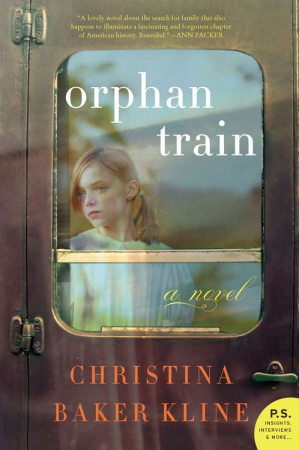 Molly is a delinquent foster kid – may as well be an orphan since her father is dead and her mother is in jail. After a misdemeanor offense, she lands possibly the most boring community service ever – helping a rich old lady clean out her dusty, overcrowded attic. It isn't long, though, before Molly realizes that she and Vivian actually have a lot in common. They forge an unlikely friendship, helping one another find meaning, closure, forgiveness, and peace. 
I wasn't very excited about this book. But it forced excitement upon me at every page. The history teacher in me wants to make every single human read this book! Not only is it EXCELLENT historical fiction, but it's also a touching look at the way we see people. Vivian seems like a boring rich old white lady, but her past is almost unbelievable. Molly seems like a punk criminal teen, but she's actually bright, sensitive, and caring. You just grow to love these women and their varied but complementary experiences. So good.
Good
The historical element doesn't feel forced. Even as a history teacher I found myself learning all kinds of new things, and turning to Google to answer questions like "Wait. Did that REALLY happen? Was that REALLY how it was?" It covers the Irish Potato famine, Immigrant New York, the Great Depression, World War II, and even the Native American genocide in colonial America, but all in a natural, interesting way.
It shows Molly in a multi-faceted way. It shoes the adults reacting to her in a way that is pretty realistic to life. I ached for her, and though I can understand the adults I also wanted to shake them. Teenagers have so many layers, and they're never all bad. She needed someone to listen to her, trust her.
Vivian has been through so much, but almost no one knows that. It made me think – how many other people in our lives have been through hell and back? They deserve credit and respect.
The system is horrifying. Even when it's working as planned it's still nothing compared to loving parents, because they're irreplaceable. I don't know why this is in the good section. Maybe just because it feels like it must be a pretty accurate portrayal of foster care. It just makes you value families and feel compassion for those who don't have them.
The way she writes about Dutchy is just mesmerizing and so romantic. It literally gave me butterflies.
The ending is so happy and positive and healthy. I love closing a book that way.
Less Good
It's sad. It's rough. It's depressing. Even if it ends well (which it does), you'll never forget the trials and hardships these women faced.
The only part where it DOES start to get hokey/heavy-handed is when Molly starts using this personal history for an assignment and her teacher submits it for an award. At that point I was like "Oh yeah this is historical fiction for teachers to use in classrooms; that's the purpose." Not awful, but it's there.
Again, the ending went too fast. As soon Molly moves in the plot just races forward and in like 2 days Vivian has a computer and knows how to Facebook. Idk. I just feel like that part could have been stretched and explained a little better.
So if you're gonna read one of these, read Attachments. If you're gonna read two, read Attachments and Orphan Train. I'm halfway through a writing book – "Writing Down The Bones" by Natalie Goldberg, and then the two book club books for May will be "Nineteen Minutes" by Jodi Picoult (for Bon's Book Club) and "Popular" by Maya Van Wagenen (for Delicious Reads). May is gonna be an insane month for me but I'm hoping to get plenty of reading done. Happy Reading!