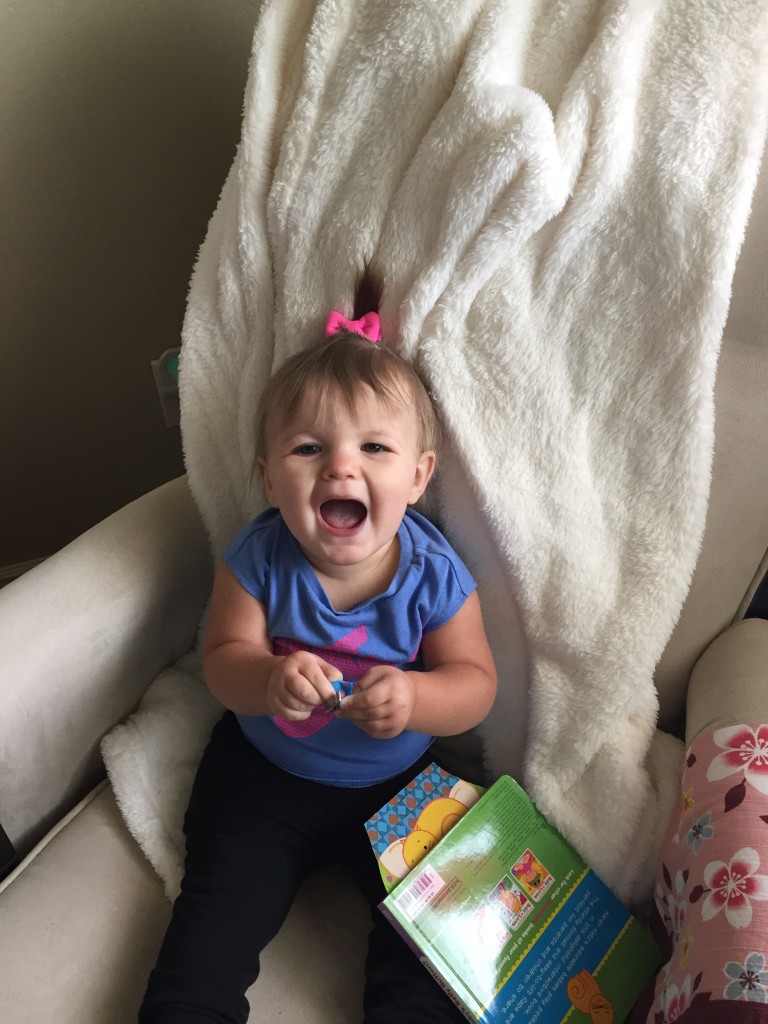 She's not a baby. But she also doesn't feel quite like a toddler yet.
She jabbers constantly. But she only knows about 10 words.
She still naps. But it's only one nap and she has the awareness to fight it when she wants to.
She finally understands and enjoys toys. But she lacks the attention span to play with one for more than 30 seconds before moving on.
She can negotiate the stairs. But she still insists on holding my hand while she does it.
She can eat anything. But all hell breaks loose if I don't have yogurt melts in my bag.
This stage is getting the better of me most days. I know it's probably some combination of her age, her personality, my personality, and my inexperience. I just feel like solutions or alternatives to the problems we face right now either apply to younger or older children than Reese.
For example – church. I've talked a few times about how frustrating church has become for me. Reese is no longer content to just sit quietly on our laps reading board books. She's not old enough to sit in her own seat or be entertained by "quiet books" or attend nursery yet, either. (I'm counting down the weeks – 8!) I can't remember the last time we made it to all 3 hours. The Beard and I taught at the same time, so eventually I had to ask to be released because it was just too much to deliver a primary lesson to a bunch of kids while Reese ran circles around their chairs and tried to steal their scriptures. Now I spend the little time I'm actually AT church stuffing puffs into her shouting mouth or walking 20 laps around the building, stopping her from knocking on every single classroom (and bathroom) door.
Or how about the grocery store? She's too big for most of the buckle straps, but she tries to stand up and cart surf constantly, earning me those looks from other moms that say "can't you control your BABY that's unsafe!!!!"
Not to mention outside activities. She has a lot of energy and can run around, but she's too small to really do much at the playground or pool by herself. Yet my lap is currently the most boring place to be. (Unless #teething. Thanks teething!)
We're still pre-logic, pre-bribery, pre-discipline. We're just in this weird inbetween and the only solution appears to be patience.
And I believe you all when you say: this will pass, it's a fast stage, enjoy it now because being a toddler is way worse, etc. etc. etc.
Reese is awesome. She's adorable and smart and funny. She can interact with me and she sleeps 12 hours a night. But that doesn't mean I don't feel like a confused, inadequate, impatient mom the other 12 hours a day, between all the cuteness.
Because I think we're kind of inbetween. And I'm trying to still relish it. Trying to appreciate it, just like all of the other stages. Because I know how fast this is all going, and that it's really not that big a deal that I have to clean up the scattered contents of my bookshelf for the fourth time today.
Because I'm inbetween, too. I'm inbetween a baby mom and a toddler mom. Baby moms can stick their kids in swings & strollers. Toddler moms deal with tantrums and potty training. Babies destroy outfits, but toddlers destroy rooms. Baby moms get snuggles, toddler moms get bit. Allegedly toddler moms also get good things like to hear "I love you, mom!" and tee ball and someone to fetch your Diet Coke. But I just do this thing where I prepare myself for the absolute worst and then everything seems to turn out heavenly in comparison.
We're inbetween, Reese and I, and we're kind of a mess because of it. No longer welcome in the infant world, not quite comfortable in the toddler realm. I'm kind of a mom, but not like a full-blown mom, if that makes sense.
We're inbetween. Just taking it one day at a time, trying not to screw it up too badly, and eating more goldfish than seems possible.