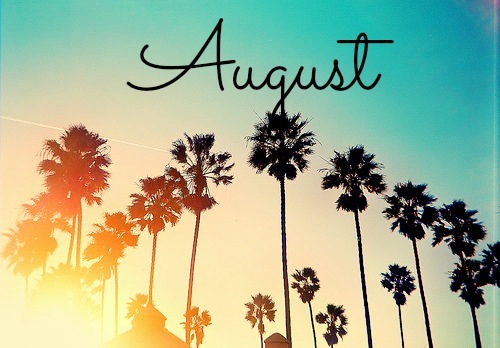 I decided to ditch the Monday Music Motivation posts in favor of a goals/inspiration type post to kick off each month. Using a bullet journal in particular has really helped me to be more intentional about goals and tracking, and it's been really fun. Should I blog about my bullet journal? I've thought about it a few times, but I'm not super artsy or creative so it's definitely not as cool as the amazing bullet journals on Pinterest and Youtube. Maybe I'll share a few things in a quick blog post later this month. Who knows.
August promises to be a pretty fun month. Crazy, but fun. I've learned to expect that from any month we go to Disneyland. You expect to get the same amount of things done in the weeks before and after a vacation, but somehow that just doesn't really happen. So I'm trying to be realistic and prepared this month, preventing the dreaded mess that sandwiches an amazing vacation.
In August I am going to:
Have a Bachelor in Paradise kickoff/Bachelorette finale party with my Bach Crew WOOT WOOT
Celebrate Reese's 18 month mark and send her happily off to nursery!
Completely pay off two of our debts, which is so exciting to me!
Go to Disneyland with my family
Finish HP7 on audiobook on the drive to/from CA
Celebrate my SIL Emily and niece Lillie's birthdays
Host a Harry Potter Dungeons & Dragons night for Harry Potter Book Club
Read "The Martian," "The Life Changing Magic of Tidying Up," and "How May We Hate You?"
Hopefully catch the organizing/cleaning bug from reading "The Life Changing Magic of Tidying Up" and get some house projects done
Buy school supplies that I don't need at all of the Back to School displays
Get Snocones
Attend an Orem Owlz game
Get 2 weeks ahead on freelance before Disneyland
Leave for Disneyland with a CLEAN HOUSE!!!!!!! Danica!!!! Come on!!!!!
Go to storytime at the Orem library
Continue to swim every week
Prepare the blog for some exciting updates and redesigns! Much excite!!!
Do 7 Yoga Sessions
Do 7 Weightlifting Sessions
Attend 4 Zumba Classes
Meet Dad for a picnic lunch
I think maybe 1/2 of this is reasonable, Leslie Knope/Danica. It's going to be a very busy and fun month. Hit me up if y'all want to join us for any of these.