I have been doing a pretty good job of getting dressed to some degree most days. Everything is just more intentional when you have two kids, I'm learning, so I tend to break my day into 2 parts – upstairs and downstairs. Upstairs is from when we wake up until we go downstairs for breakfast/lunch (yeah. I keep Reese's breakfast fruit & yogurt pouches, Diet Coke, granola bars, and crackers in the mini fridge upstairs because some mornings breakfast is upstairs #lazy #lifehack). I know that once we go downstairs we're likely to be there all day, so I just get all 3 of us totally ready before we trek downstairs. It's been working well for us, and I usually put on some makeup and do ~something with my hair and outfit each day. It's been nice.
I have had it written down in my planner almost every week to try to take a photo. There are a variety of reasons. 1 – motivates me to get dressed and look better. 2 – pictures of the three of us are fun, and I know I'll be glad I have them. 3 – OOTD pics for the blog & insta, always a plus. 4 – It's a good reminder of what I look like during the postpartum changes.
I'll admit I don't love the way I look here, and it's this weird identity crisis where I feel so small compared to my pregnant body and I LOVE my body for all the awesome things it has done. I will walk out of my room thinking I look great, and then the camera seems to think differently which is frankly disrespectful. Just rude. Overall I am happy with my body and I know it's only been 5 weeks, so don't rush in to tell me I'm being dumb or unreasonable or caving to the unrealistic expectations of photoshopped magazines. Wow turns out I have a lot of feelings about this, so a postpartum body blog post will be coming soon I guess.
But that's part of why I took these pictures and decided to share them anyway. It's ok that I'm still nearly my pregnant weight. It's ok to feel bleh about it. I liked these outfits, and realized how similar they were (and how similar they are to everything I've been wearing lately). So here we are. Sharing photos where I don't look amazing, but the outfits are ok and one day I'll look back at these and be even more proud of my body for how far it's come. Hopefully as I lay poolside in a 2 piece 25 pounds lighter. A girl can dream.
My Spring Uniform
Like I said above, I've been wearing variations of this outfit basically every day I get ~really dressed beyond workout clothes or leggings + Star Wars tees. It's a combination of three spring transitional trends that I just remix to create new outfits. I have bought a few of these pieces lately as a celebration for not having to wear maternity clothes.
**NOTE: I did not say I ~wasn't wearing maternity clothes. Just that I didn't ~have to wear maternity clothes anymore.
Are those maternity leggings? Yep.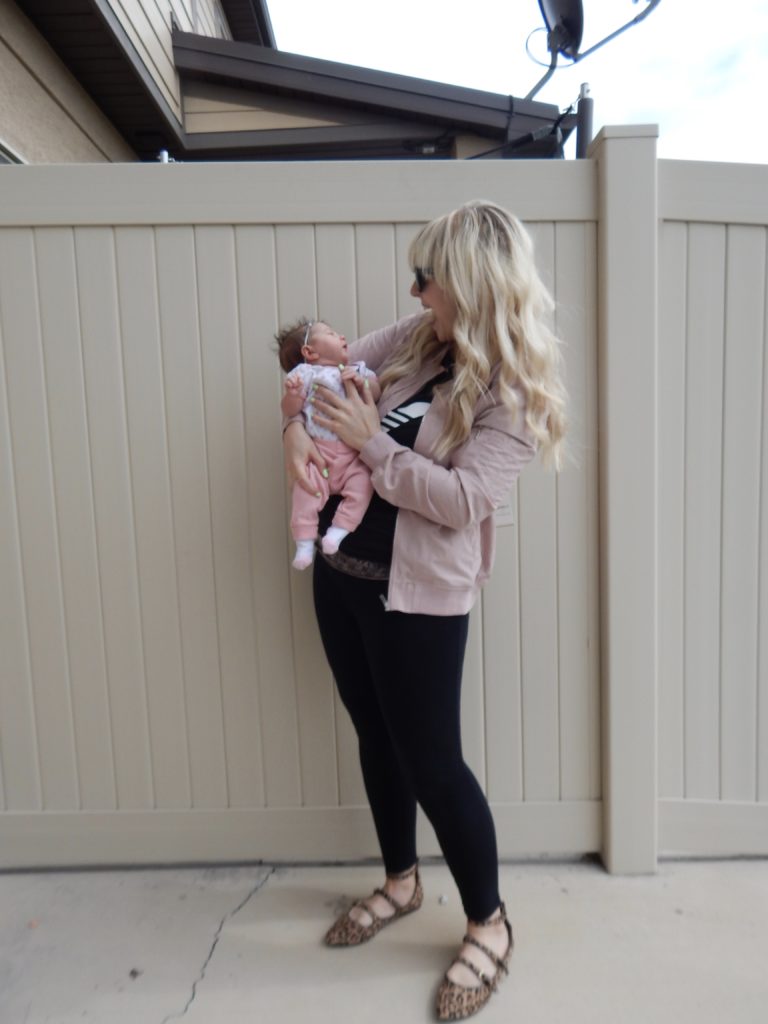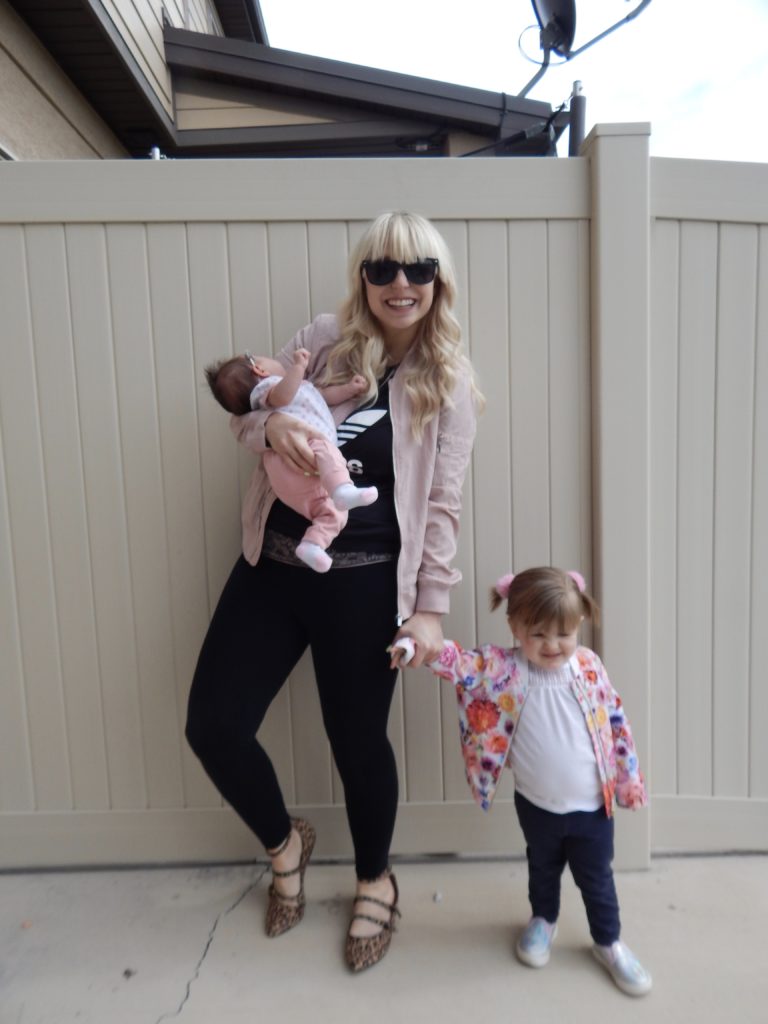 Reese also rocking the bomber jacket #twinz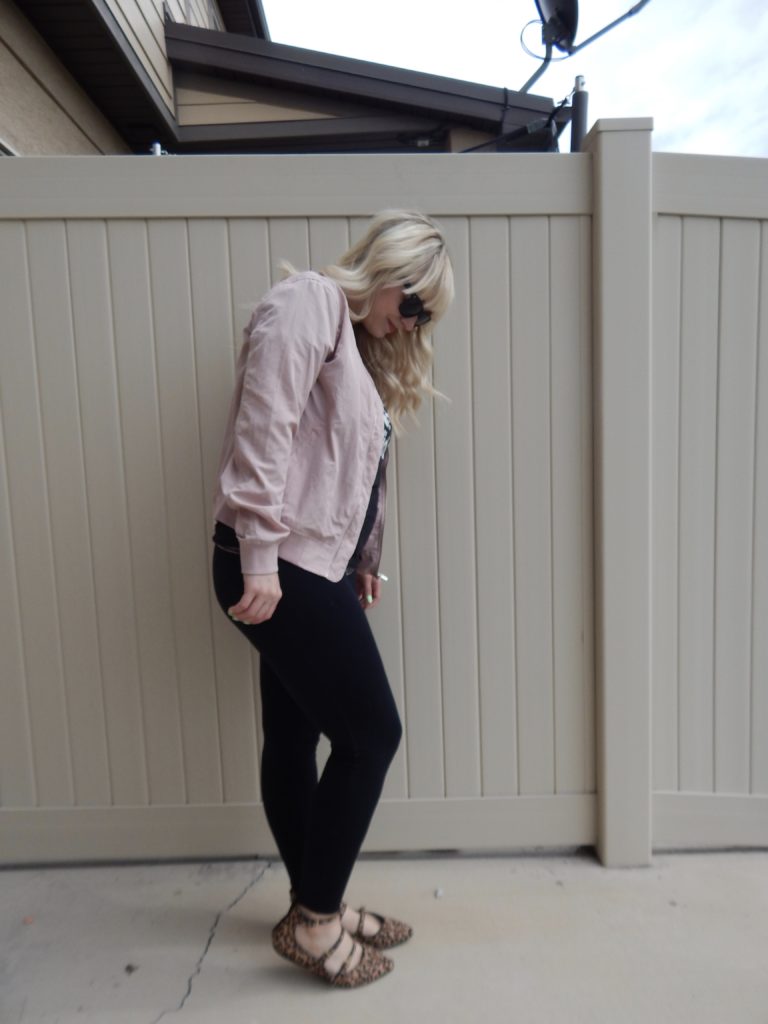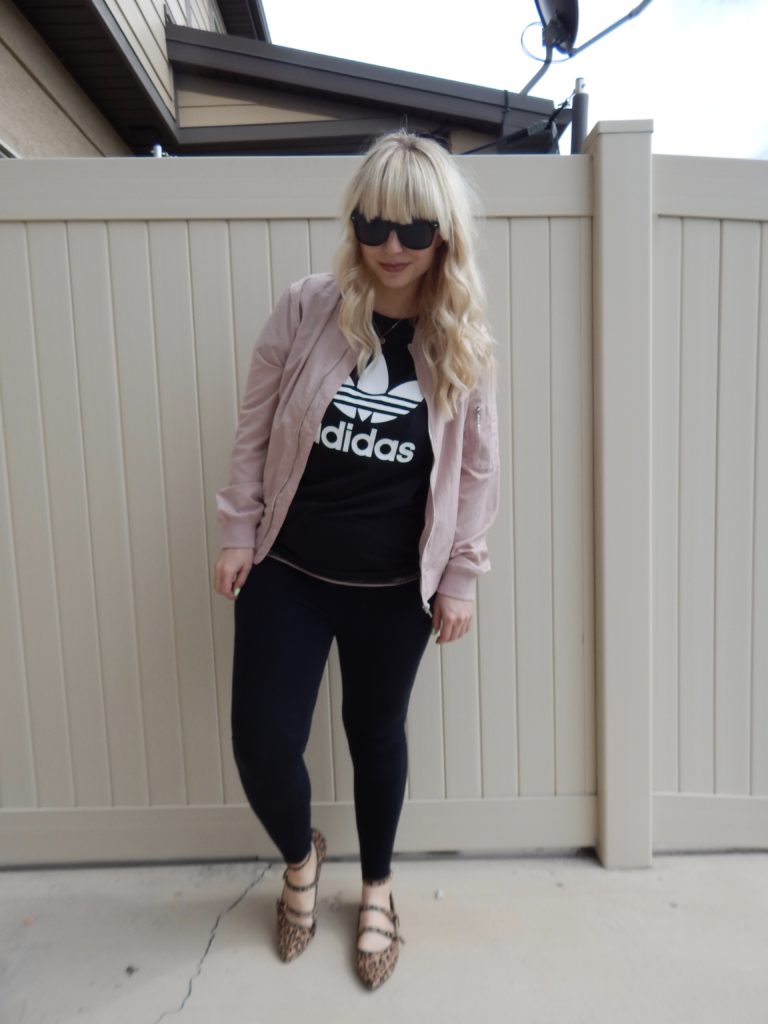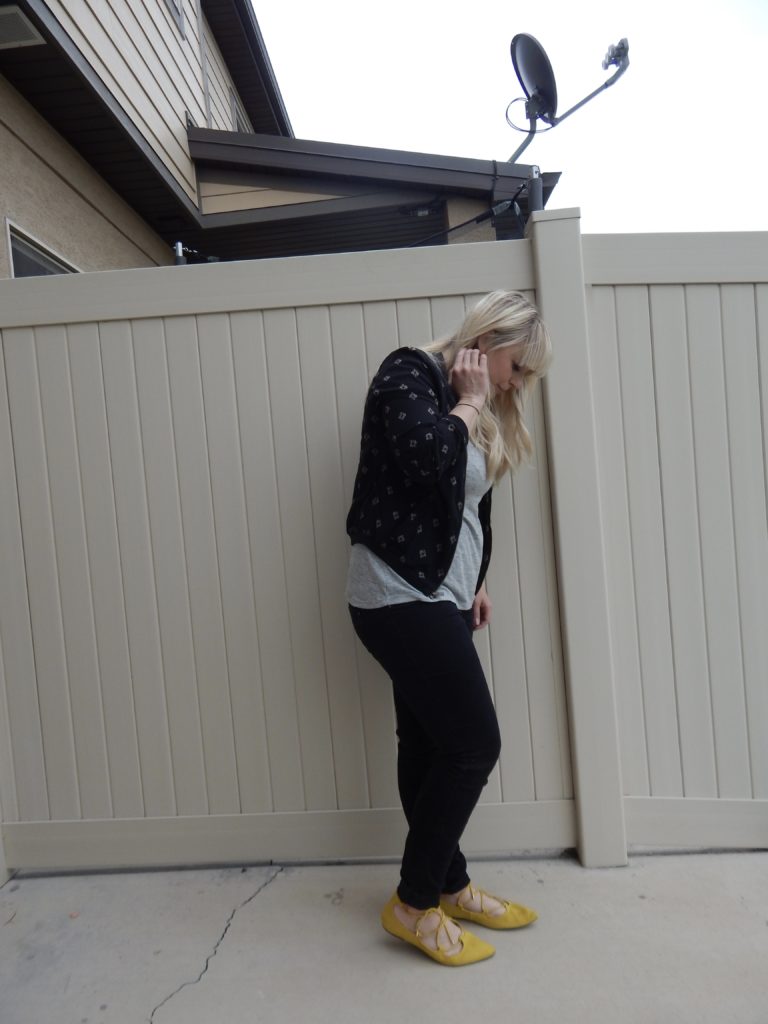 Are those maternity jeans? Yep.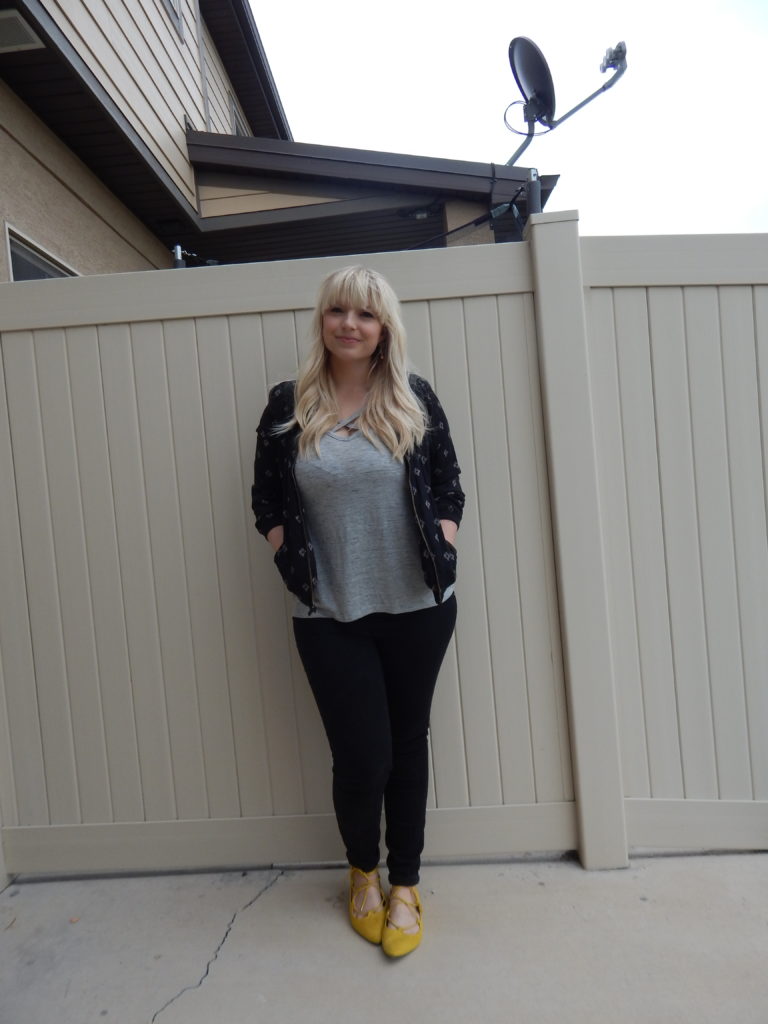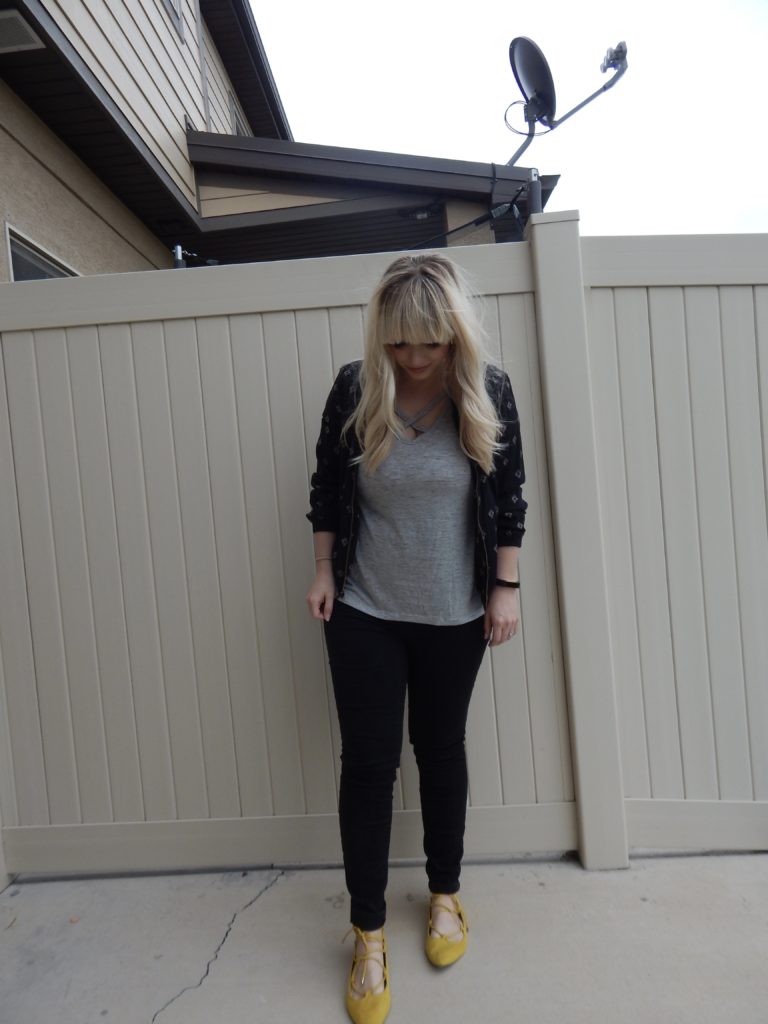 The three pieces I'm repeatedly wearing, and featured here, are as follows:
Bomber Jacket – pink from Forever 21 (just got last week) and black from Old Navy (2 years old). There are SO MANY great bomber jackets in stores right now, different fabrics, colors, styles, prints, trims… and they're the perfect light layer for spring. Highly recommend.
Statement Tee – Adidas tee from Amazon and strap front tee from Nordstrom. Both of these were tees I'd seen on countless fashion bloggers and loved, so they're recent purchases. The Adidas one surprised me the most because the fabric is AMAZING. It's a great boyfriend cut of course, but the fabric is this weird hybrid between like a soft cotton and a workout tee and I've worn it like 4x already. I freakin love the athleisure trend. The strap front tee is buttery soft and so trendy and cute. I worry about my breastfeeding bust in it, though. I may just be a little too #blessed to pull it off without a mile of cleavage. Still like it!
Detailed Flats – Leopard Buckle flats from Target and yellow lace up flats from Old Navy.
In summary, if you're in the market for a spring refresh that isn't just white and easter florals – these are pieces that you can wear year round, of course, but great additions to your wardrobe right now. Find versions you like that fit your style, whether it's girly, preppy, edgy, boho, whatever. This combination is one that works for any style!
Even for a postpartum mom, which is quite an accomplishment.