I kind of had to force myself to finish all of my March books, but not because they weren't good! It was because I've been riding the podcast train like a crazy person this week. I listen to quite a few, but lately it has been binge-listening to Up & Vanished. It's this podcast about an 11 year old cold case in Georgia where a former beauty queen and teacher goes missing and foul play is suspected. There are like 100 weird random things about the case, which makes it interesting. Plus I am low key in love with the private investigator who is a guest on half the episodes. PLUS it's actually unfolding in the news right now, which is crazy. For those of you who hated the lack of resolution in Serial Season One – this is the best!! Go binge-listen now!
Anyway. Back to books. For Bon's Book Club we read Devil in the White City, which I tried to listen to on audiobook last year and fizzled. It took me a long time to work through it this month (the ENTIRE month to be exact) but I am glad I gave it another shot. Following the Delicious Reads book club, I listened to Kids of Appetite on audiobook and had a lot of feelings about it too. Last, I read a book I've had from Blogging for Books for like MONTHS and finally read it – How May We Hate You?
Devil in the White City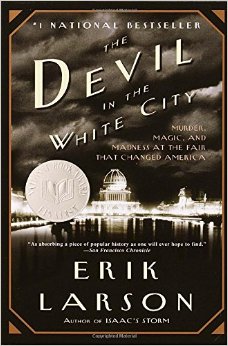 In this historical work, the tale of two men are interwoven to paint a picture of Chicago in the 1890s. One is a brilliant architect who designs and orchestrates the World's Fair. The other is a brilliant con man who takes advantage of the chaos the World's Fair creates to become America's first serial killer. 
This book is so interesting and one-of-a-kind, and I've read quite a bit of historical nonfiction as a history major/teacher. I knew basically nothing about the Chicago World's Fair going into this, and I learned so so much. And though I am super into serial killers and true crime I also went into this knowing nothing about H. H. Holmes, either. They are such weird opposites, but Larson's writing brings them both to life in great historical detail.
Good
My lil history heart loves to learn!
Watching the lead-up to serial killers is so fascinating, and I liked the backstory he gave for H. H. Holmes.
The accounts of the actual fair were so fun to read. I loved being able to picture myself walking through the fair, seeing the first ever Ferris Wheel, all the incredible details.
I liked how he placed it in time, and in the world. There's plenty of backstory and future story (like the fair's impact on Walt Disney!), as well as what was going on in the nation and world at large during this time. As a history teacher I always struggled to express how important it is to understand that great events never stand alone.
Less Good
This thing is dense. You can tell he did his homework, of course, but it's super detail-rich. Down to like menus of dinners the architects ate at fancy meetings. It was honestly a bit much.
Too much architecture, not enough murder. Even if you're not morbid like me, I wouldn't be surprised if you got a little bored with all the architecture drama.
I get that H. H. Holmes was a master of elusion and secrecy, but I could have done with wayyyyyy more detail about him and his castle and his murders.
The audiobook felt like another language, honestly. That's why I didn't make it through when I tried last year. It flips from person to person, and has so many second- and third-tier characters that it's tough to keep things straight. Plus I often found myself just skimming the architect chapters, which is harder to do with audiobooks.
Kids of Appetite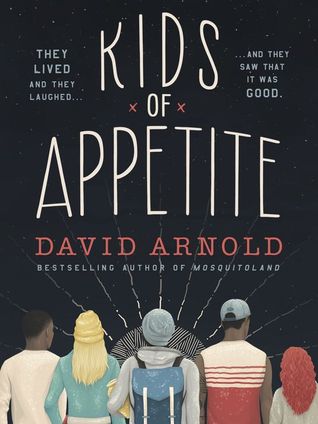 Mad & Vic find themselves in a police interrogation room, being questioned about a murder. They have to start at the beginning of their story – when they met two weeks before as Vic ran away from home with his father's urn. During those two weeks they embark on a scavenger hunt that leads them to find friendship, love, safety, and themselves.
This book was very interesting. The audiobook was available to me before the ebook or hard copies (yes, I usually place a hold on as many versions as I can and just go with whatever comes first), but I instantly worried I had made a mistake. The kid who read's Vic's voice drove me nuts, and really made me not like Vic. Thankfully I pressed on during a day of cleaning & de-winterizing/pregancizing (nice word right?) my closet and got deep enough to commit to the story. It's a very different and fresh coming-of-age story with a wide variety of characters and a lot of good messages. I hope they make it into a movie, because I could see it becoming an instant indie classic.
Good
I loved Mad as a character. Besides the smoking, that is.
I LOVED Coco as a character. She brings the different age, background, voice, and perspective to the story in a comical way.
The theme of loyalty really stuck out to me during the entire story, and it's one I think is neglected in a lot of modern stories. Loyalty to your friends, your family, your tribe, your word, your ideals,  your past.
There were a lot of straight LOLs. Mostly from Coco's dialogue.
Less Good
My biggest complaint with this book is that it just drops you in and takes quite a while for you to figure out what the heck is going on. I think he's trying to make it real and get you hooked, but in reality it just left me feeling confused and annoyed. If I hadn't had that day of cleaning/organizing where I was too lazy to go turn off the audiobook, I would have quit. I'm glad I didn't, but it's still an issue.
Even after I got over the narrator, I still didn't ~love Vic. He seemed ridiculous to me.
Plenty of swearing, smoking, and some pretty intense violence.
As a teacher I think I will always be a little annoyed with books that glorify teens who do reckless or insane things in the name of being an outsider or a hipster or unique or misunderstood. There's just too many of them.
Also as a teacher I just can't really get into overly unrealistic teen characters who are supposed to be realistic. A kid who reads a bunch of Russian literature and listens to opera? K.
How May We Hate You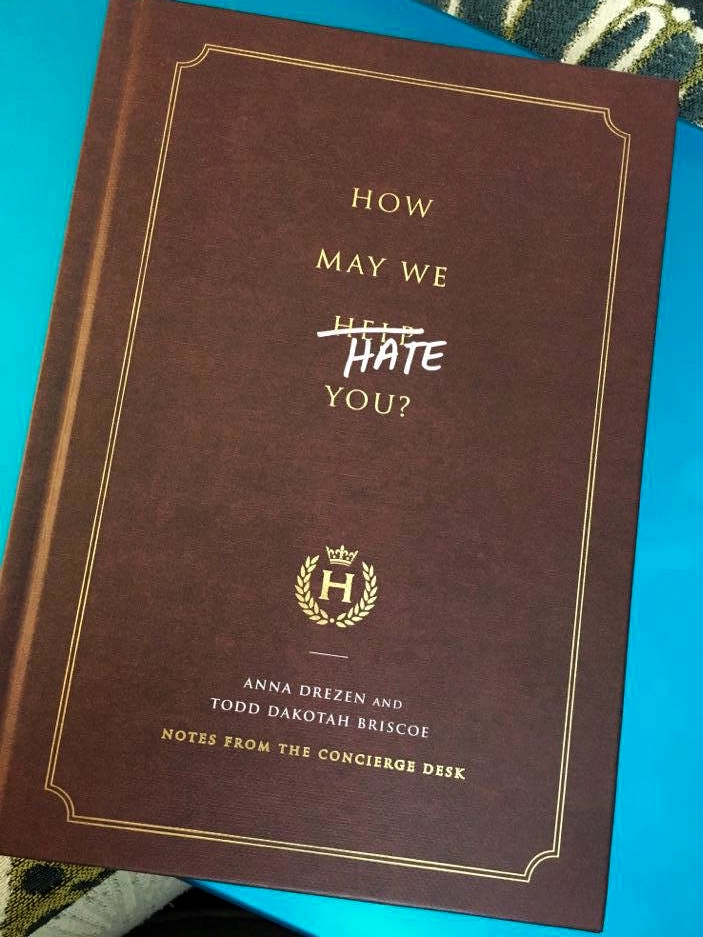 Todd & Anna have worked as concierges in a variety of NYC hotels for years. They created an anonymous blog to help them blow off steam after dealing with particularly horrible guests, managers, coworkers, or the gross features of the hotel biz in general. This comedic book features conversations, diagrams, quizzes, and tips from their years of service.
This is the second comedy book I've gotten from Blogging for Books and it did not disappoint. I started it Saturday night and finished Monday night! It's really nice to mix up my fiction and nonfiction reading with a comedy book featuring multiple formats. And did I learn a lot about hotels? Yes. Much that I did NOT want to know lol.
Good
Hilarious casual read. It's great for a vacation, a weekend, or random quick reading sessions while nursing.
Their "voice" is strong. It makes you feel like they're telling you their insane stories at a fun party.
I know it sounds dumb but I really did learn a lot about the hotel biz and just how we treat people in general.
It would make a cool gift for anyone who works in a hotel, loves New York, or enjoys comedy writing. I plan to hand this one over to a friend of mine!
Less Good
Lots of gross things. I mean, it's about a hotel, so they talk about gross things they find, gross things people do, and bedbugs. Bedbugs are disgusting, you don't even know.
Lots of swearing and inappropriate content that can sometimes be a little over the top.
The quizzes and stuff aren't very funny, and I wish there were way more conversations and anecdotes about guests. Those were the best parts.
---
For April I'm reading Big Little Lies (and then watching the miniseries!), Hunted, and whichever of my holds lists books come in first! I'm currently waiting on SuperBetter, Loving What Is, One Hundred Birds Taught Me to Fly, and The Life-Changing Magic of Not Giving a F*ck. Gotta get back on that self-help kick, guys. You know how I do.