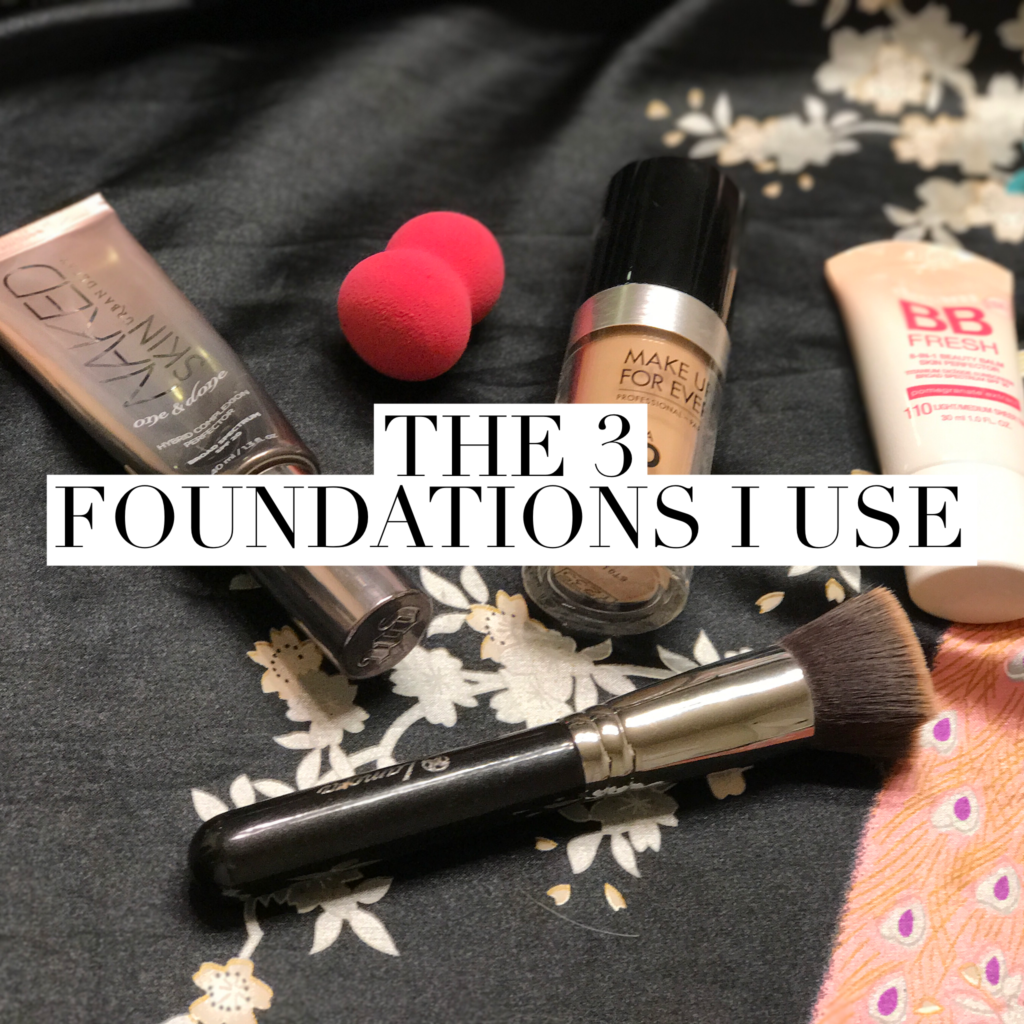 (P.S. this is 0% sponsored. Y'all know I haven't sold out. JOKES I would sell out in a heartbeat for free makeup if I had an option. I You know honestly it takes everything I have to not turn this blog into a weekly makeup thoughts page. I LOVE makeup, you guys. I love talking about it, doing it, watching it get done, reading about it, just everything. I have for as long as I can remember. And I feel like we live in a golden age of makeup. There are a billion options and great stuff in every price range. For that same reason it can be super overwhelming.
I actually get a lot of questions about makeup and it makes me really happy. I think there's a big gap between the average, low maintenance woman who buys her makeup at the drugstore or grocery store, and the elite beauty vloggers who use a 10 step approach to their flawless look. I think I stand firmly in that gap. I am actually pretty low maintenance about 80% of the time, and I buy at least half of my makeup at Walmart. But I also watch a ton of YouTube tutorials, read beauty magazines, and drool over the higher end products at Sephora & Ulta.
I think anyone can achieve a beautiful and flawless look with drugstore makeup. I think a great makeup look can take less than 10 minutes. I think anyone can master contouring, brows, blush, and a smoky eye. And I think I can talk anyone's ear off about it.
I recently took the Michelle Money makeup course (should I do a review post about that? I might), and it inspired me to clean out my makeup drawer. Again. I did a deep purge in September when I read the Life Changing Magic of Tidying Up. But this time I was able to really take a look at my makeup routine and realize what wasn't working for me. I ditched a lot of products and made a couple of informed purchases that have made a nice difference. I narrowed down my foundations to just 3 different products that I finally feel great about. Yes "just" 3 products. I used to have a small tray of like 8 different foundations – liquid, cream, powder, different shades, expensive to inexpensive. I would impulsively buy things my friends talked about or try something of a darker/lighter shade. I had things that were DEFINITELY too old to safely use, and a few that I had tried a few times and hated. So now. NOW. I have 3 products that I like and use every week. And here they are.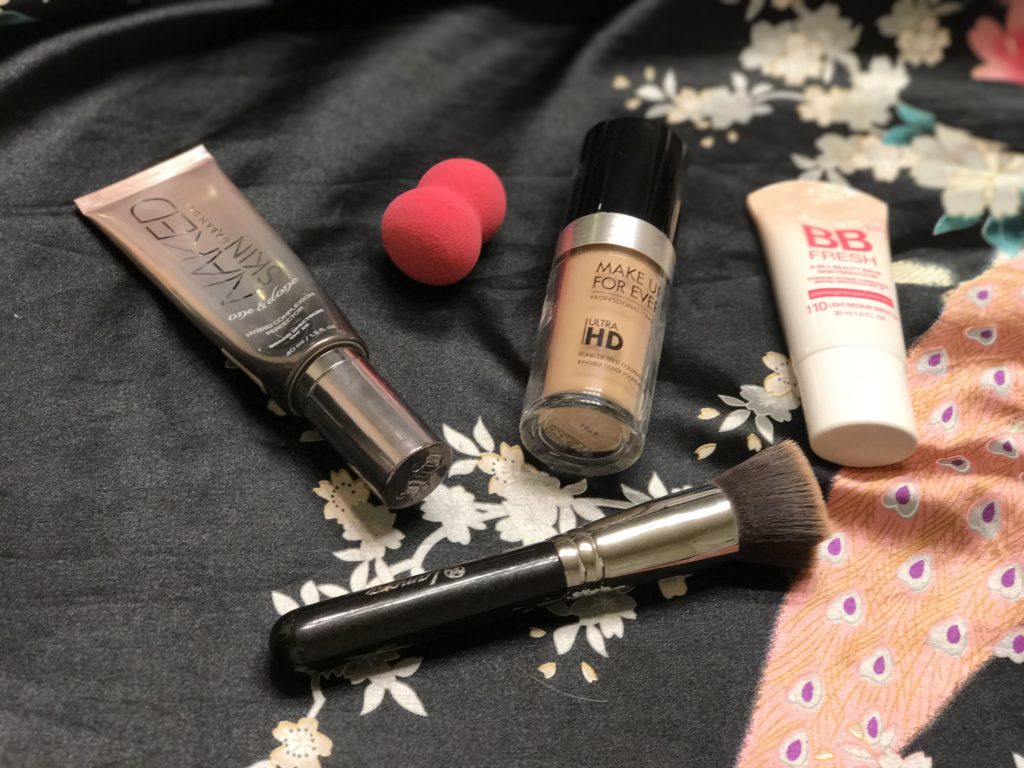 I was in need of a full coverage, "professional" foundation that made me look and feel 100 emoji. I was 8 months pregnant and feeling so so gross, so when I got some Sephora rewards and coupons I headed straight there to make this purchase. I had done a lot of research and sampled it before, so I knew it was going to be something I'd like and use. It was probably the most expensive makeup purchase I've ever made, and I took about 10 minutes in the aisle comparing a few shades to be totally sure it was right for me, but it was well worth it.
This is my Big Girl foundation. I wear it whenever I get ~really ready, and love it. Basically this is what I use for date night, parties, events, or long days where I know I'll have a lot of face time with a lot of people. Or for fun. Because some days you just want to get pretty, ya know? I usually use a primer (Maybelline Studio Finish Blur + Illuminate or Benefit Porefessional) and then apply with a beauty blender or flat kabuki brush, which is a new purchase after the makeup course and I'm loving it. I set with a translucent powder and it lasts all day long. It is so light and looks airbrushed when finished.
Am I putting on primer, full coverage liquid foundation, and setting powder every day? Of course not. Ain't nobody got time for that. Most days when my agenda is just park dates, Target runs, and casual dinner with friends or family I am just wearing a BB cream. I LOVE BB creams. They are hydrating, smooth, light, SPF protective, and they don't look like you're wearing a TON of makeup. Perfect for everyday wear. Everyone needs a great BB cream that looks natural and feels great. I've tried a lot, and this Urban Decay Naked is my favorite one so far.
My everyday makeup look is just this BB cream, concealer, cream eyeshadow, black liner, cream blush, and the occasional lip color because I'm trying to get more comfortable with that. It takes me about 5 minutes and lasts most of the day.
One weird thing about me is that I am so weird about using things up. I am, like, scared to. Especially if I like something or it's expensive. I LOVE my nice foundation and my nice BB cream, but I paid well for both of them. It felt really dumb sometimes to put on this expensive goop that I loved just to sit at home with my girls, or to go to the gym. Still, I am very careful about SPF since skin cancer runs in my family, and I like to have just a ~little bit of something on my face in case I see anyone I know. So I needed to wear BB cream, but I didn't want to "waste" my expensive BB cream on a day in yoga pants.
Voila! Cheapie BB cream that works! I have used this Maybelline BB cream before as my daily and really liked it. I upgraded to the Urban Decay Naked because it's a little thicker and just generally better, but this Maybelline worked fine when I used it. It's ultra light and very thin coverage. It gives me the SPF and basic color that I need for lazy days, and since it's just a cheap drugstore choice I don't feel guilty using it up. It makes my other foundations last longer for me!
Does this make me seem crazy and high maintenance because surprise I am!