I'm a ~little embarrassed about only reading one book for April but not that much. April was nuts. I just really didn't have any DESIRE to read, which was bizarre for me. The good news is the one book I did read was really really good, and I'm on track to read at least 5 for May lol.
The book choice for Bon's Book Club was Big Little Lies, which was the one I finished. The book choice for Delicious Reads was Hunted, a YA retelling of Beauty and the Beast. I didn't get very far with it, but I have it for another week so I'm trying to get into it. I am also about halfway done with the ebook version of SuperBetter, which is so so interesting I'm trying to talk about it with anyone I can corner. So while I only finished one, I still have a few I'm catching up on.
Big Little Lies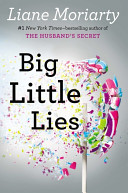 In a picturesque beach town, drama unfolds between children, adults, friends, couples, and strangers. Jane arrives with dark secret and a confusing young son. Celeste struggles with deception in her marriage and conduct. Madeline is struggling with her teen daughter, her ex husband, and the constant power struggle with Renata Klein. As they all send their children to kindergarten, they find that the mommy wars can be, indeed, deadly. 
This book has gotten a lot of hype, including being developed into an HBO miniseries starring Reese Witherspoon, Nicole Kidman, Shailene Woodley, Adam Scott, and Zoe Kravitz. I have never read anything from Liane Moriarty and now I'm actually bummed that I have an overflowing reading list for May because I want to go read everything she's ever written. This book is definitely intense with a lot of triggers, so if you need to avoid those I wouldn't read this one. But otherwise it is SO GOOD and I definitely recommend it.
Good
I'm a big fan of shifting perspectives, especially when you like all the characters.
Madeline was just so real to me. I loved her. I related to her most closely, although the constant conflict and confrontation is not something I really understand. She just felt so tangible, and like she would absolutely be my best friend if we were momming together with our kids in the same class.
The way she approaches intense issues of domestic abuse, sexual assault, bullying, infidelity, and mixed families is so nuanced. Sometimes things seem so black and white when you don't experience them, or when they're happening to someone you love. I loved how Moriarty used these women and families to flesh out some problems of modern society in a way that makes illogical behavior seem more logical.
I have never seen or read or felt something that encapsulates the "mommy wars" so completely. They are real and they are hard and they are funny and they are scary. Watching all of the women interact with each other was so incredibly funny and interesting and enlightening.
The interviews interspersed with narrative were so fun
I just loved all the characters, or at least loved the way they were written and portrayed in a complex way.
Knowing that someone ends up dead is such an intriguing way to get to know characters and work through the story. I loved it.
Less Good
Heavy subject matter, although I will say that it is very tastefully done. If you've seen or heard about the HBO series, just know the book is nowhere near that intense or graphic.
Language. I didn't think it was over the top, but it is there and I know some people don't like that.
I kind of predicted who was murdered, but the way it occurred was pretty unexpected.
---
So I am currently working through a hard copy of Hunted, an ebook of SuperBetter, an audiobook called Loving What Is by Byron Katie, and soon I'll be starting Come As You Are which was *my* book club pick for Bon's Book Club! I am awkwardly excited, and if you read the description you'll understand why I probably won't share too much about it for my Books I Read: May post lol. I also have a hard copy of The Magic of Motherhood borrowed from my best friend to read in honor of Mother's Day. I joined another book club last month (lol) and our May book is The Hate U Give which I have on hold and hope will come through in time. Books Books Books. Hopefully I'll do a lot of reading out in the sun this month. 🙂