I am far far FAR too late with this… but I'm finally getting it up! I've got ~exclusive info and discount codes for Ryan's grocery shopping app for y'all to use!!!! Get excited!!!
I am genuinely so so proud of him. The most proud I've ever been. It was so incredible to go the Orem Macey's the day they debuted there and to pull up an app that my husband made and see it work in action. It's a lot of fun!
What is Skip?
That big long checkout line? You *skip* it. You scan your groceries with your phone as you go – scan, drop in cart, scan, drop in cart. It keeps a running total of your cart, gives you coupons, and alerts you to better deals on comparative or companion products. Then when you're done you go to the Skip lane, a Skip clerk scans a few items to be sure you're not being sketchy, then they approve and it charges whatever card you entered on file. They have bags there, or you can bring your own, so you bag and get out the door! My average checkout time is under a minute.
Why should I use it?
You guys know I'm a big believer in grocery pickup, and I still use that for my regular, scheduled grocery runs. Loading up two babies is a pain, so I try to avoid it. But naturally we always end up needing to run to the store for something we forgot, or last minute brownies for the football game, or WOW Danica underestimated how much Diet Coke she was gonna drink this week. Skip is IDEAL for those occasions. You just need milk and diapers? Skip. Single college student with 20 items? Skip. It's Saturday night before Fast Sunday and everyone you've ever met is standing in the checkout line? Skip.
Have a grocery list? You can keep or enter your grocery list in Skip and it will segment it by type and even give you a map to where items are likely to be in the store. No more comparing lists on your phone or scribbled and torn pieces of paper. It's all in one place and super easy to use.
Another reason I really like using it is that I am not great at tallying the total in my brain. The running total helps me be more aware of how much I'm actually buying. I also like that it informs me of coupons and deals, but more on that below. They also store all of your receipts for you to consult or itemize later.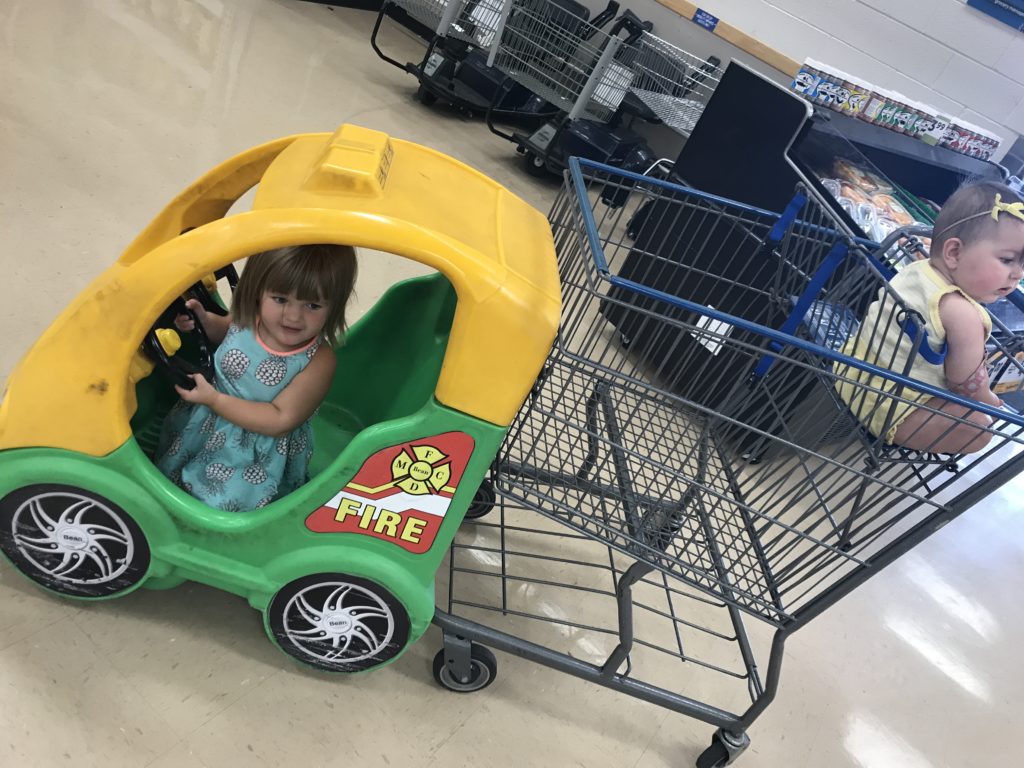 Also, if you DO have to go into a grocery store with kids, Macey's + Skip is the way to do it. Reese is a big fan of the kiddie car cart. And standing in an unmoving line next to a huge display of candy and small toys? byeeeeeeeeeeeeee Instead I can move through the store quickly, push a button to checkout, and get in my car 30 seconds later.
It saves you money – WITHOUT clipping coupons!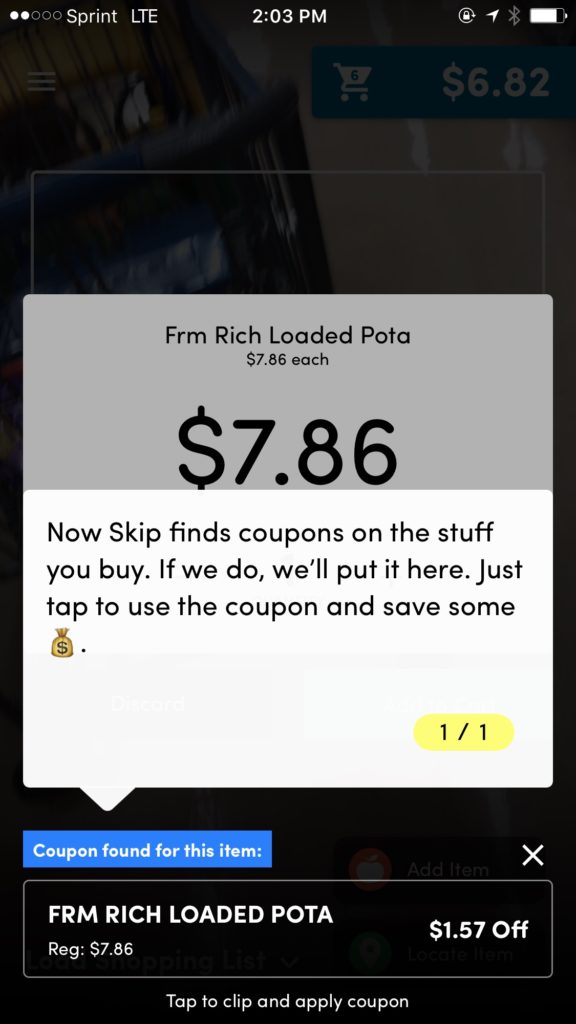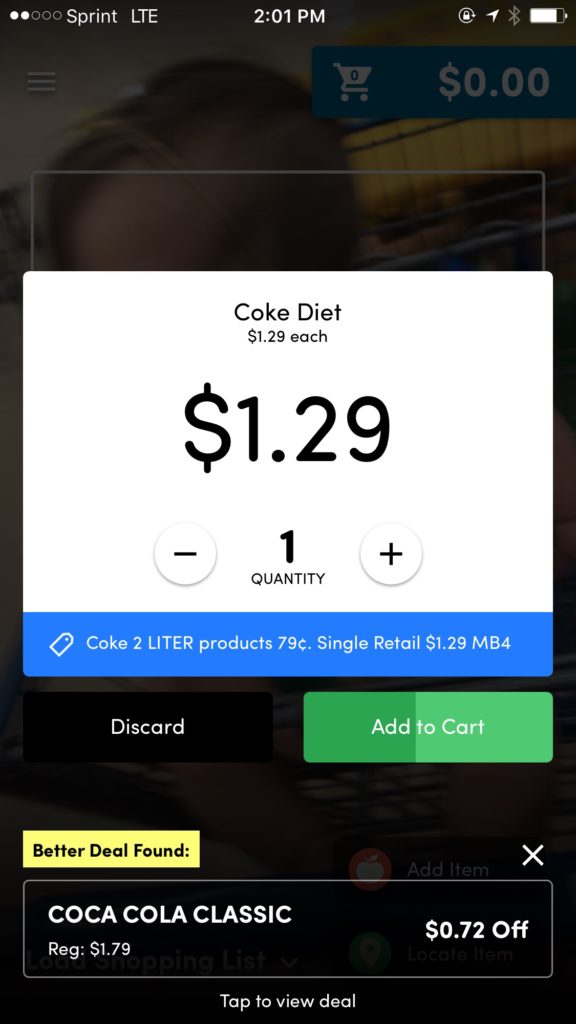 This is my personal favorite part. I love coupons and getting things cheaper. But I've never wanted to actually clip coupons. Skip does it for you! When you scan an item, Skip will pop up any available coupons below the item and you tap to "clip" them. Skip will also alert you to better deals. Sometimes you won't care – see how they tried to tempt me with a better deal for regular Coke? Sorry fam. Diet Coke only for my brand. Sometimes they show you that a name brand is actually a better deal than your usual generic choice, due to coupons or store deals. Sometimes they tell you "oh you bought ice cream? Get a jar of hot fudge or caramel for 1/2 off!" or "Here's a deal for dip to go with those chips!" I love the companion deals.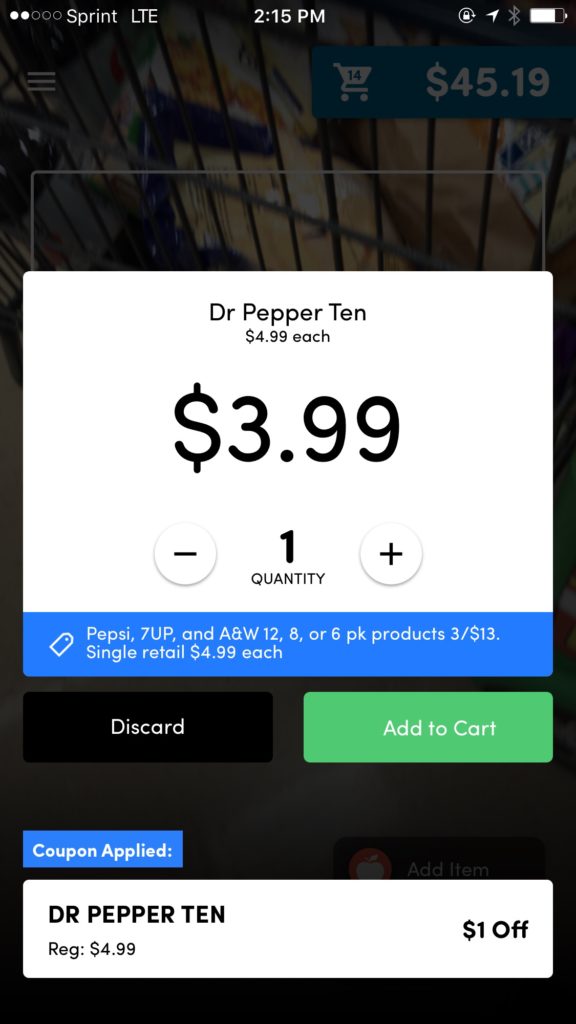 I am absolutely not exaggerating when I say that this grocery trip last week had more items with coupons or better deals than without. Microsoft has a team of data scientists helping with the coupons, so they are LIT. Like dollars off, not just $0.50. It's awesome. If you miss a coupon you can always go to the Coupons tab in the app and see any that may have disappeared before you were able to "clip" it.
COUPON TIME MACHINE!!!! If, within the next couple of days, there is a coupon/sale/deal for something you just purchased, it gets applied retroactively – crediting your account for the savings to apply toward your next purchase. That's some next level ish you guys!!!! Only select stores have opted for this feature at the current time, but hopefully they'll all be doing it soon.
Where can I use it?
All of the Utah County Macey's.
Macey's in Murray
Honey Bee in Draper
Kent's in Brigham City & Tremonton
Broulim's in Southeastern Idaho
Lee's in Logan
Nashi in Melbourne, Australia
Coming Soon: select Ridley's, Maverik gas stations, and many more!
Don't see one near you? Download the app and you can get a notification when one opens up in your area. Share this with any friends in these areas so they can start using Skip and saving money.
How do I get started?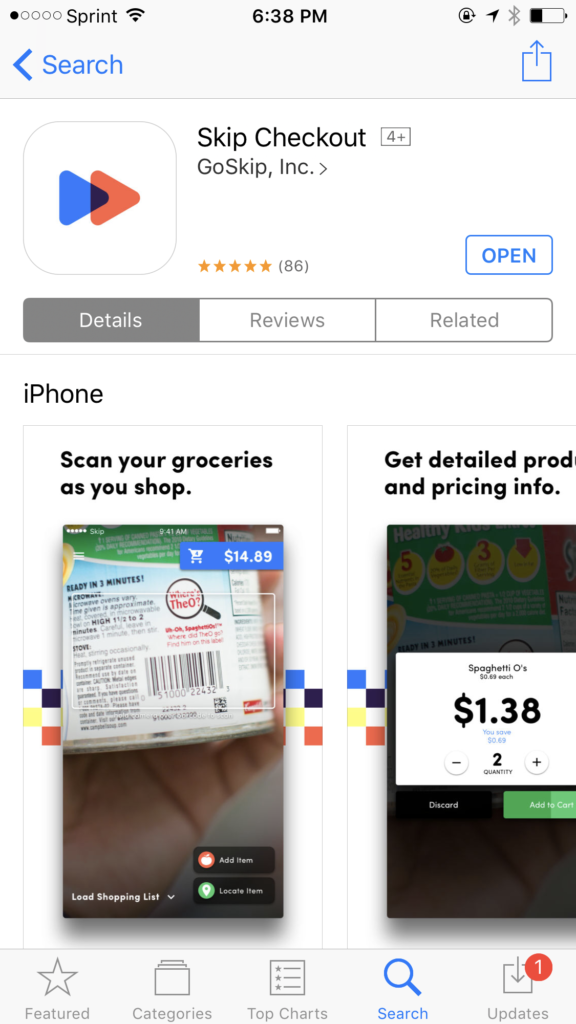 It's totally free. Download the app in the App Store (Skip Checkout). You can practice in the Fake Shop by scanning anything in your house (it won't be real, obviously, so it could ring up as a totally random thing but it shows you how to use the app). Definitely set it up before you get in there by entering your info and whatever card you use for groceries, just to be sure it's as fast as designed.
When you enter the store there are usually big signs to prompt you to pull out your phone and start using the app. Sometimes produce will have a big Skip barcode up above the produce baskets, but otherwise you just scan the barcode of each item. Things that need to be weighed will be weighed at the end on the Skip Lane scale, easy peasy. When you're finished, you head to the Skip Lane, which is usually right next to self checkout – just look for the signs. And VOILA. You're outta there.
Referral Discount Code & Feedback
In the app there's an area to enter a referral code – enter my code and we both get a couple of bucks off! Then you can also generate your own code to share with your friends for money off too! Share that love!
My referral code: danicaho99f711
You can enter feedback at the end of each trip, or at any point on the app. They are still making lots of changes and constantly adding new features, so if you have an idea, complaint, or suggestion please share it! It's not perfect, but they read every single review and piece of feedback to make the app better.
---
This is cool, you guys. Go check it out if you can, or share this post with someone who might be interested. Thanks so much for your excitement and support – You are the best and I love you. I hope this helps you skip that line when you're treating yourself to some ice cream this week. Clip the coupons.