YAYYYYYY THE NEW YEAR!!!!! I'm sorry not sorry that I never feel the post-Christmas depression. I'm too fired up about the upcoming new year and all the planning it entails. I love finding places for our new gifts, getting my house back after Christmas, returning to routine, and doing a lot of reflection for the upcoming year.
The week between Christmas and New Year is often spent enjoying new presents and wasting time, which is awesome. But there is so much potential there for starting off the year on the right foot. You can stumble back into school and work and routines on January 2nd feeling nothing but hungover from Christmas candy OR you can waltz back feeling happy, fulfilled, rejuvenated, and excited for 2018. This is my New Year Checklist (you can find a more extensive list in an old blog post here), which will definitely not all happen:
New Years Checklist
Get all of Christmas cleaned up, put away, thrown away, opened & prepared.
Deep clean the house
Wash & detail both cars
Make our yearly family chatbook
Start working out again – I've found it's MUCH easier/better to start now rather than January 1st
Give myself a full facial, manicure, pedicure, deep conditioning hair treatment, and full body scrub + moisturizer.
Journal & reflect on 2017 – the good and the bad. (Another reason I love my GBOMB posts, because I can just go read all 12 of them!)
Clean out and pare down my makeup. I realized yesterday I have a face cream that says March 2017 on it sooooooooo bye.
Loosely meal-plan January, because otherwise I just eat leftover candy and fast food.
Lay out my word of 2018, write resolutions, break down monthly goals, and create vision boards! I love this part!
Get ahead on work, because it eliminates stress and starts me off on a good note.
Enjoy some totally unplugged, unscheduled, uninterrupted family time <3
If you have any killer post-Christmas, holiday hangover, or New Year Prep ideas please share!
And if you could use some help with YOUR 2018… I think I can help. If you missed it, I'm teaching a No Fear New Year online planning class in two weeks! You can find all the information about it here or sign up here. In the meantime, I'm giving away a New Year planning starter pack!
It includes: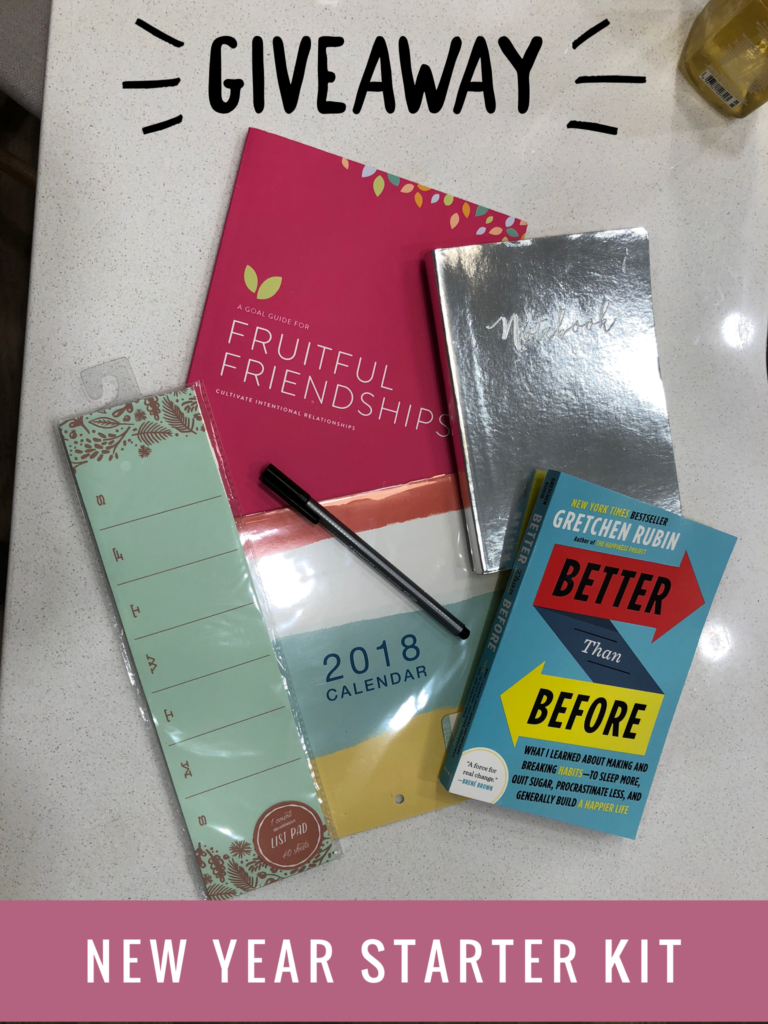 Better Than Before by Gretchen Rubin – the BIBLE for goal setting and self-improvement. It's on Danica's Required Reading list.
A pretty notebook for jotting down all your ideas and goals and reflections
My #1 favorite pen – the Staetdler Fineliner Plus
A 2018 calendar
A weekly list pad
Fruitful Friendships by Lara Casey – this is a goal setting workbook for helping you cultivate your friendships and meet meaningful friendship goals to bless your life and others'!
Enter below! The giveaway will run through Tuesday January 2nd! As always, thank you for your kind support and tolerance of my planning crazy. Love you all!