First of all – Congrats Kelcie on winning the No Fear New Year giveaway! I sent you an email so check it and respond to get the goods. 🙂 You guys still have until Sunday night (Sunday, January 7th) to sign up for the No Fear New Year class.
Despite the stress and overwhelm of December, I have found myself with an uncontainable smile this week as I reflect on 2017. 2016 smacked the crap out of me. Out of us. It was a really hard year for our family, and honestly the time that's passed has only proved to underline that fact. I wasn't being dramatic or injured. It was rough and I still don't know how we pulled through. (My 2016 GBOMB post is here.)
And 2017 was an entirely different, better story. I know we needed 2016. It was hard and still so many wonderful things happened. But d*ng am I grateful for how different 2017 was for me and my little, fresh family.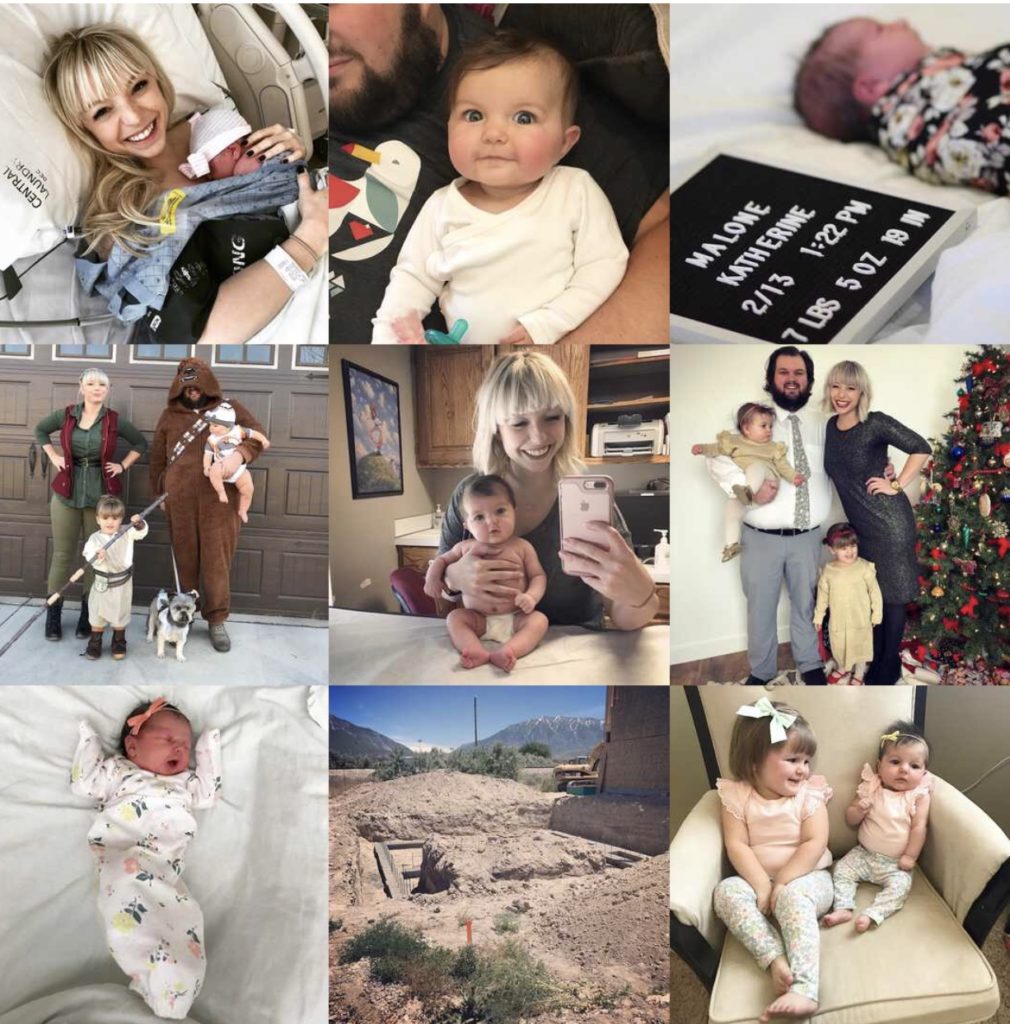 I love doing GBOMBs. I can read each month's and remember all the things. All the things. I'm glad I wrote an overall GBOMB last year, and would like to do the same this year, with tears of gratitude and a head-shaking smile on my face.
Good
Malone Katherine Holdaway. She is everything. I had no idea how bad we'd need her, how perfect she'd be for us. Ugh. Her smile and chunk and crazy hair!!!! I LOVE her so much. She made this the year to remember.
We bought a house! Our goal was to buy a house in 2017 and you guys… we did it. I am so happy and proud and fulfilled by it. It was so fun to design it and work hard and save and wait. It's even more fun to wake up in it every day.
Cooking!!! I know I've talked about it a lot so I won't bore you further, but between Chrissy's Cravings and Chungah Rhee's Damn Delicious I cooked a lot and learned so much. I am genuinely proud of myself for making progress on a goal.
Journaling!!! I can't count the number of times I've tried to write a journal over the course of my life, but I actually did it semi-regularly this year. I think the key was that I switched to topics. I used my journal to take notes when I was reading great books, to prepare my church lessons and talks, to brain dump worries for upcoming weeks, and to write about specific events and days where lots happened. It's imperfect and great.
My girls' sisterhood. Some of the sweetest, most precious moments were random, everyday ones where Reese brought Loney a toy, the first time Loney smiled big at her sister, finding Reese in Loney's crib with her and chatting away. Watching them become sisters has just been somethin' else.
My marriage. It's a whole different ballgame now. 2016 was really hard and definitely brought us together. And we felt the benefits of that stretching, growth, and binding in 2017. Especially having Malone showed me this truly eternal quality in our relationship and I'm just really proud and grateful for my marriage at this point.
I cut my hair!!! And just kept cutting it! It was such a good change at just the right time and I've really been loving it.
I got a babysitter in the summer and having someone who isn't family really was a game-changer for the whole year. I started using our babysitter to get work done or go to appointments without babies or just get a break. We also took a ton more dates and it was so freeing. 10/10 recommend.
Another big moment that will define this year for me was my brother coming out. He wrote a beautiful post to share his experience, and I always want to remember the spiritual experience I had during those days and weeks before and after his public coming out. My pride, love, and respect for him grew so much.
We did a "Year of No Disney" lol and it was great. We saved a ton of money, enjoyed St. George vacations even more, and also went to Ashton and Bear Lake Idaho on trips that were SO fun and refreshing.
I'm not sure I did weekly "Adventure Days" like I planned to do at the beginning of the year, but we did a TON of playdates, splash pads, museums, playgrounds, and more. I'm glad we set a good standard for assuming the hassle of going out. It's nearly always worth it.
Reese starting preschool was awesome. She loves it so much and it's been so good for her. We've seen a huge improvement in her ability to follow directions, respond to discipline, speaking abilities, and interacting with other kids. I also have Tuesday and Thursday afternoons to spend with Loney and getting stuff done. It's been so great for everyone!
Our new ward is everything I needed. It's been a total game changer for us and I'm just so happy and grateful. I wanted to jump in with two feet and start attending everything, but December was just too busy and we had conflicts with each ward activity. But now we have a new year and I've got a calling (RS Teacher) and we're ready to make ourselves at home in this new ward.
Bad
Loney's RSV hospital stay was bad. It was also good, because I had some cool spiritual experiences I wouldn't have had otherwise. But it was really hard and really scary and really helpless.
I fought hard against postpartum anxiety & depression starting just 2 months postpartum, right up to the moment I type this sentence. I still need to share my experience, but suffice it to say here that it was… hard. Really hard. Really scary. Things I can't forget or unthink. Unfortunately that defined quite a bit of this year.
Danica Doesn't Feel Great. Basically every month had ~something. A cold. The flu. A back injury that called for expensive x-rays and MRIs to confirm what we already knew (compression fracture). Nausea after weaning Loney. Hip injuries. Tight and sore muscles. Thyroid swinging. This was easily my least healthy year.
Because it was my least healthy year, I am still not down to my pre-pregnancy weight. I had so many goals and plans, but they were constantly and frustratingly derailed. With Reese I was at pre-pregnancy weight at 8 months, and now we're nearing 11 months with Loney and I still have 5 pounds to go. It's not the end of the world, and I owe my body a big apology, but it's still the bad category for 2017.
I feel like Harry Potter Book Club fell apart. I kind of knew it would. I feel sad and mad and almost hurt about it sometimes? I couldn't do it all, and it makes me feel almost a little resentful at times that I had to do it all. But at the same time I 100% understand and don't expect it from anyone else, and I needed the rest. Maybe we all did! But I'm still a little sad.
I just feel guilt about Loney. Guilt that we have like 5x the pictures and videos of Reese from her first year than we've taken of Loney. Guilt that she gets so much less dedicated, uninterrupted attention than Reese got. Guilt that she just has to roll with everything we do. I feel like I could have and should have been a much better mother to her this year.
I'm not especially proud of my blog this year. I think I really fell off the wagon. I had a few posts I really worked hard on and respect, but for the most part I was phoning it in all year.
I definitely felt a lot of relationships in my life change this year. It happened in 2016 too, but I guess I just thought it was part of that garbage year. Maybe it's just growing up, growing past and away from people. It's probably good. But it still makes me sad.
On My Brain
Making 2018 my quietest year yet. Right now I feel called to slow down the side hustles, see fewer people, focus on these two little girls, and spend time with my husband. To read more, sleep more, do everything more slowly. Part of it sounds like giving up or going into hiding. Most of it sounds like sweet music to these tired, anxious ears.
Rethinking all of social media. I think I want to seriously revisit how I use social media, and the internet at large, this year. There were a lot of times it hurt and scared me in 2017 so… I don't want that.
What does this year even hold? It's so weird to not have a baby, a pregnancy, or plans for a baby. It's weird to have no plans for a house or a move. We might buy a car. We're gonna go to Disneyland a lot. Idk. There's a lot of freedom and potential. I am so excited that we will have so much choice. But I also have no idea what the hell is coming.
Am I leaving enough space for good things? Is there room for Christ to come into my life? Are there blank spots in my schedule for renewal or service? How much do I need to eliminate to create enough margin in 2018?