I came across this idea last year and I just loved it. I mean, I kind of unofficially had a word of 2015 and that word was "Baby." What a great word. And what a great year!
At first the word I chose for this year was "Simplify." Which still would have been a great one. It's something I really tried hard to do/figure out/be during the last 6 months or so. I think it's a great mantra for Type-A-ers and moms alike. But then this word hit me. Out of nowhere. And it's so stupid. But it stuck. It kept coming up and coming back. Whenever I saw something I liked or wanted or admired or valued this word would come to mind, and it wasn't just in Target, or on Twitter, or in the General Conference Ensign. It was everywhere. This word seemed to fit and label all of the things I wanted, as stupid as it seemed at first to me. And then it became so painfully obvious. This was my word. This was my 2016.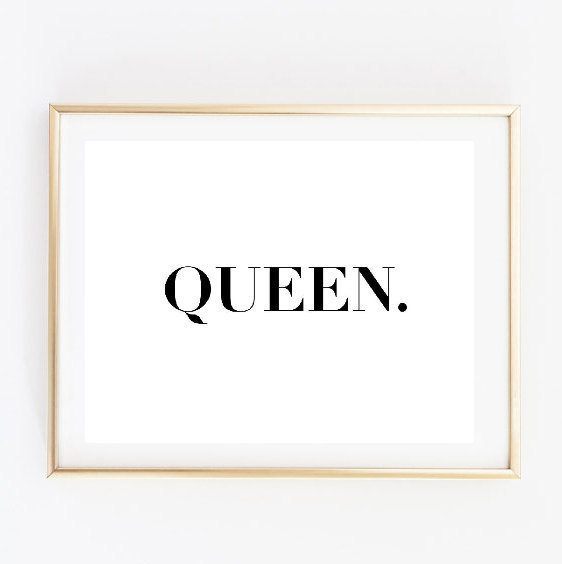 QUEEN.
When I used to see it used on the internet i.e. "YASSSSSS slay QUEEN!!!!" it was almost always referring to Beyonce. That's a good start. But it was also kind of artificial and annoying. Until someone said it to/about me. And then I got it. THAT MAKES YOU FEEL LIKE A MILLION BUCKS. I got to thinkin'… why?
It's because a Queen is everything. She's beauty and she's grace, She's Miss United States.
Well, maybe not that. But we use "Queen" to signify that this female has status, power, elegance, style, clout, respect, and control. And I love all those things.
Do you know who's a Queen? Hermione Granger. Leslie Knope. Mindy Kaling. Carrie Fisher. And Princess Leia. (YEAH I KNOW SAME PERSON and I just typed that she's a princess but YOU GET MY DRIFT).
For me, it means the vain things. Looking good. Having my nails painted more. Doing my hair instead of twisting it up in a wet topknot. Wearing *some* makeup everyday, and getting better at it. A queen doesn't go to Walmart in cheetah print socks and moccasins, Danica. Stop doing that.
It also means the status and authority things, not that I'm hoping to run for President (not even PTA!… at least not this year). It means being educated and speaking my mind. It means treating my own feelings and opinions as valid, and expecting others to as well. It means treating everyone kindly, because we all live under a spotlight. It means considering others, and acknowledging that my actions affect those around me.
It means the responsibility and time constraints. Queens have to do things they don't want to, but they do them with grace and good effort. Queens get to do the things they want to do because, well, they're Queens. But are Queens wasting their time doing meaningless ish? No they are not. I want to stop wasting time, because a Queen wouldn't.
It means every day is special because YOU are something special. It means finding luxury in everyday, and doing things YOUR way, even if they're little and stupid.
It means living up to your potential, rising to the occasion, and just in general being the girl in "Short Skirt, Long Jacket."
It means understanding your eternal, spiritual nature. We come from a Heavenly Mother and she is the ultimate Queen – perfect, long-suffering, humble, strong, benevolent. My destiny, and yours, is to become actual royalty in the kingdom of our Father. Now I know this is a stretch; I mean, I started with regular manicures and here I am talking about our divine heritage and the kingdom of heaven.
But I think that's why this is such a good word for me, for now. It's everything. It's who I want to be. I'll still set some resolutions, but the thing about a word is that, if you choose it right, it guides and answers everything for you. I've been thinking my word a lot for the last few weeks and it's been surprising how many times it has altered my course or helped me do more. I hope I can continue that forward into 2016.
I don't really know what 2016 will bring. New jobs? A house? Another baby? A book? A challenge? But I know that I want to face it like a Queen – poised, ready, and capable.
Let's do this.