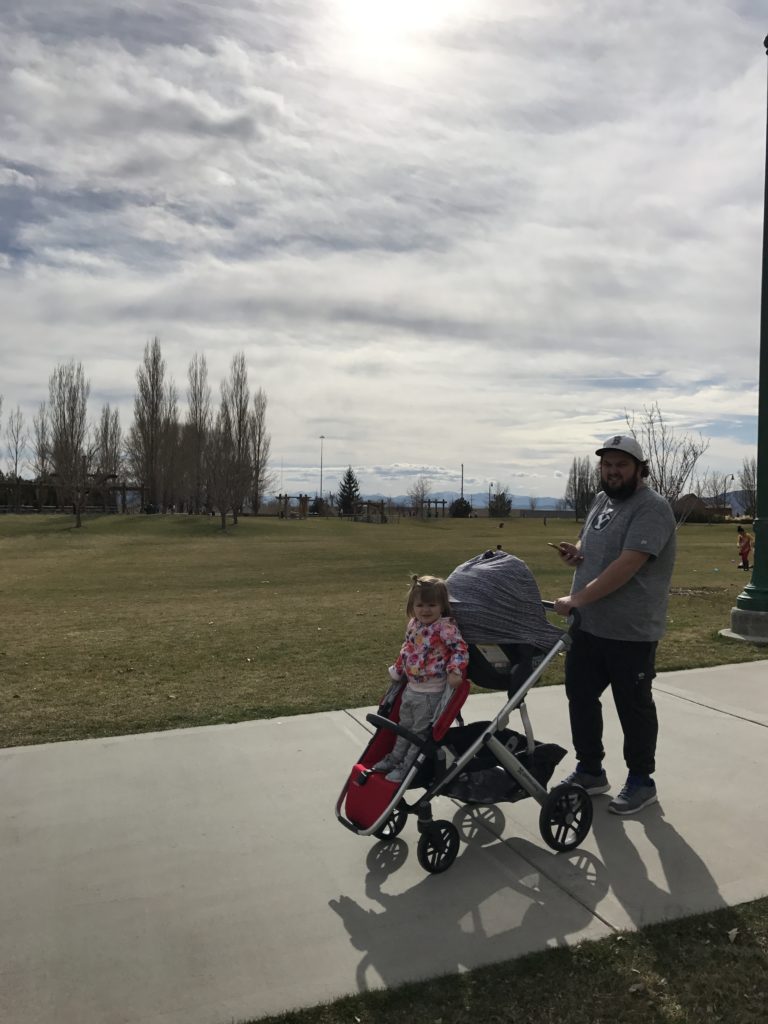 One of my resolutions for 2017 was to take my girls out once a week for an "Adventure Day." Yeah, it's a stupid name but it's March 14 and I still haven't thought of a better one so. Towards the end of 2016 it was obvious that Reese is squarely in toddler territory and that staying home all the time (or just the regular outings to Target) simply won't cut it. We have to DO more, get out more, see more. Not only is Reese happier and more worn out, but it's just more interesting and fun.
Therefore – once a week I will take my girls on a scheduled, planned, fun outing. I'm going to try to do new ones as often as possible, although I'm sure some weeks it will just be library story time or the park by our house. And I realize that there are incredible moms out there who do fun outings with their kids every day and that's so awesome! Way to go! For us, one scheduled and planned fun outing a week will be great. Of course most weeks we definitely do more than one outing, and we always end up doing at least one weekly and one weekend activity with Ryan. But I wanted to be more intentional about planning and doing more cool things. Utah is a great place to raise a family – a great place to be a kid. There are plenty of fun things to check out, and we intend to try at least 52 of them.
I posted on Facebook a while back asking for suggestions from my mom friends who are ahead of me in the mom game. They came back with great ideas for toddlers, and for a mom toting a new baby while chasing a toddler, too. Between that and talking with my friends and random internet research, I compiled a list of things I want to try for our Adventure Days this year. Eventually I want to get back into a good weekly schedule – I do laundry and chores Monday, groceries & gym & errands Tuesday, baking & meal prep on Wednesday, etc. but I'm still changing and moving that around as we are continuing to settle into life with our Maloney Macaroni. Eventually I want to have a set day for our Adventure Days each week, but for now I'm happy to just choose and plan an outing each week.
This list is by no means comprehensive, but it was a great early starting point. I wanted a variety of activities: indoor/outdoor, water, free/paid, some as close as my own neighborhood and some that would require a small day trip.
Don't forget to follow the account Exploring Utah with Kids on Instagram and check out the blog. My friend Katie started it and I'm one of several contributors who find and post about cool things to do in Utah with your kids. It inspired this and helped me find many of the outings on this list!
Adventure Days
Indoor
Library Story Time
Orem Mall Play Place (already wearing this one out lol)
Lowes Air Sports
Kangaroo Zoo
Thanksgiving Point Museum of Natural Curiosity
Thanksgiving Point Museum of Ancient Life
BYU MOA
Draper Aquarium
Layton Aquarium
South Towne Mall Play Place
Provo Beach Resort (free downstairs)
Provo Beach Resort (pay upstairs)
Provo Rec Center free indoor playground
Scheels
Bean Museum @ BYU
Orem Bounce House
Cabela's
$5 Tuesday @ Megaplex
Bookstores
Puppy Barn
Gateway Discovery Children's Museum
Clark Planetarium
Tracy Aviary
Outdoor
Hogle Zoo
City Creek Play Place
Provo River Trail/Vivian Park Playground
Springville Duck Pond (right off I-15 exit in north Springville)
Stewart Falls
Dripping Rocks Trail in Spanish Fork
Ensign Peak in SLC
Salem Ponds
Thanksgiving Point Farm Country
Thanksgiving Point Ashton Gardens
Lagoon
Discovery Park
(all parks!!! I love the Lakeside Sports Complex right by my house, Nielsen's Grove, and Windsor Park just for their convenience & accessibility, but we want to try a bunch!)
Water/Swim
Provo Rec Center (indoor/outdoor)
Riverwoods Splash Pad
Orem Cascade Splash Pad (will be completed this spring!)
Springville Splash Pad
Vineyard Splash Pad (will be completed this spring!)
Lehi Splash Pad
Lindon Pool
Pioneer Provo Splash Pad
Alpine Splash Pad
Spanish Fork Pool
Springville Reservoir
Seven Peaks
St. George
Thunder Junction Park
Washington City Aquatic Center
Seasonal
Of course a lot of our Adventure Days will probably be somewhat last minute and we'll want to take advantage of seasonal stuff. I'll flesh out the seasonal lists as they approach, but roughly we have a few ideas:
Spring
Summer
Orem Owlz Game
Salt Lake Bees
Orem Summerfest
Provo Freedom Festival
Springville Art City Days (any of the city festivals, really!)
Fall
Cornbelly's
Jaker's Pumpkin Patch
Alpine Loop
Winter
Meet Santa
Temple Square Lights
Festival of Lights in Spanish Fork
If you have a MUST SEE or MUST DO that would be fun for me, Reese, and Malone to tackle at some point in 2017 please let me know! I'm continuing to compile and add to this list. And if you'd like to join us for any of these we'd be happy for your company, too! Let's adventure this year!