There's no real reason I've waited until I'm 33 weeks along to "reveal" the gender of Baby Holdy. And if you've seen me in person you already know – it's not like it's been a secret. It just hasn't… happened. I couldn't think of anything good at the time, and then it felt somehow WRONG to just casually drop it on the blog or social media.
I blame this on Pinterest.
The baseball/Coke pregnancy announcement was pretty much a home run (zing!) for us. We couldn't have found a better way to share that awesome news with the world. Am I right?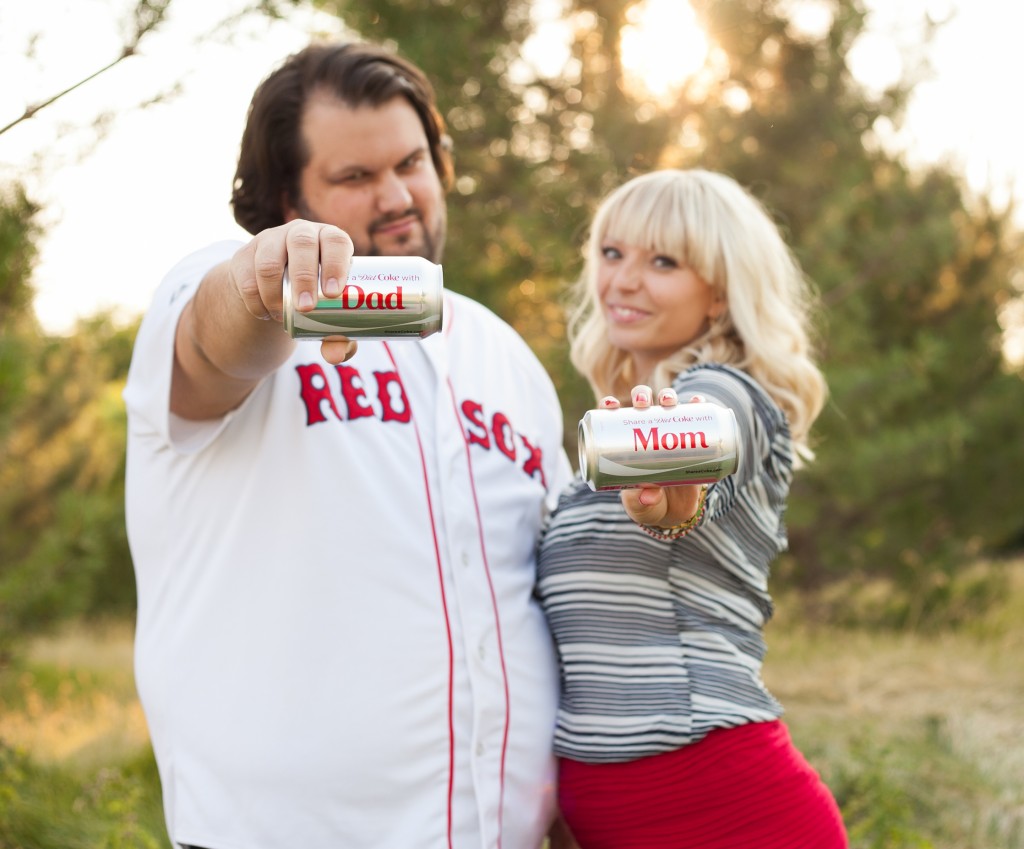 And then there was IMMEDIATE pressure to come up with some awesome/cute/fresh/chic/funny way to reveal the gender. This is a problem for several reasons.
1. I'm not creative in any way, shape or form.
2. I'm really judgy and pretentious about the overly-Utah-County trends, as you know
3. I'm really proud and prideful about any small reputation I have for being funny or unique or doing things my own way.
4. I'm super competitive and always want to be better than everyone else. Always.
5. There was absolutely no way I was getting The Beard to another photoshoot, baseball-themed or not.
Do you see my conundrum?
That's really all it was. We found out the day before school started, actually. We were excited. We immediately told our families and started buying things. I don't want anyone thinking we weren't excited or weren't sure or that anything was wrong that we were trying to hide or anything like that.
The only funny/weird thing about it was that The Beard was so convinced we were having a boy, and I guess I kind of was too. Probably just because he was set on it and that's what we talked about most often – our little guy Apollo. "I grew up with four baby sisters, mom, Gram and now I have a niece. I've done my time with girls. I've earned a little boy!" he'd say emphatically. "Or you STILL haven't learned how to deal with women and need more practice!" I'd shoot back.
So when the ultrasound tech almost instantly said "Yep… looks like a boy!" We weren't really surprised. Well, I was surprised… but just by this tiny pang of disappointment that I didn't even know was there. "Danica. What? You always thought this was a boy. Are you… bummed? What is this?"
Thirty seconds later she's waffling. "Well… hold on… THAT actually… that might be…"
And a little balloon started to inflate in my chest. Wait. Was there a chance that…?
Every 10 seconds she got more sure, and eventually made up her mind that, in fact, this was a girl, explaining to us the ways you can tell. And I'm on top of the world. I am so very excited and I had no idea until that very moment how much I wanted a baby girl! But of course I'm immediately concerned about The Beard. Will he be disappointed? Is he still going to be as excited and sure about this decision? Because HE is the reason I felt safe and right about moving forward and getting pregnant, and if he's concerned or disappointed… I just didn't know how I would deal.
He was pissed. But not about it being a baby girl. He kind of wanted to meet that ultrasound tech in the parking lot for a rumble. And I couldn't blame him, to be honest. WHO DOES THAT. It really was super unprofessional and you'd THINK that'd be like day 1 of ultrasound tech training – "And DEFINITELY don't tell them until you're 100% sure because you WILL get punched."
But fear ye not. The Beard may have had a moment of disappointment when he saw the baseballs and footballs before his eyes morph into princesses and tea parties, but it didn't take a minute to remind him that baseballs can be softballs, and a little boy probably wouldn't be as into watching My Little Pony with their big, bearded Brony dad. (Yes, The Beard is a Brony – read more about that here.) The Beard has 4 sisters and a niece. No one was concerned or worried. The exact opposite, in fact, because watching The Beard with a little baby girl is probably objectively the cutest thing of all time.
So when I was placing a new gift under our Christmas tree yesterday and saw this, without warning or him even saying anything about it, I knew it was our "Gender Reveal," as stupid as that sounds and as late as we are to the scene. Because the tears that filled my eyes and the warmth that filled my heart sure felt like pregnancy hormones at first. But I think it's more than just pregnancy hormones.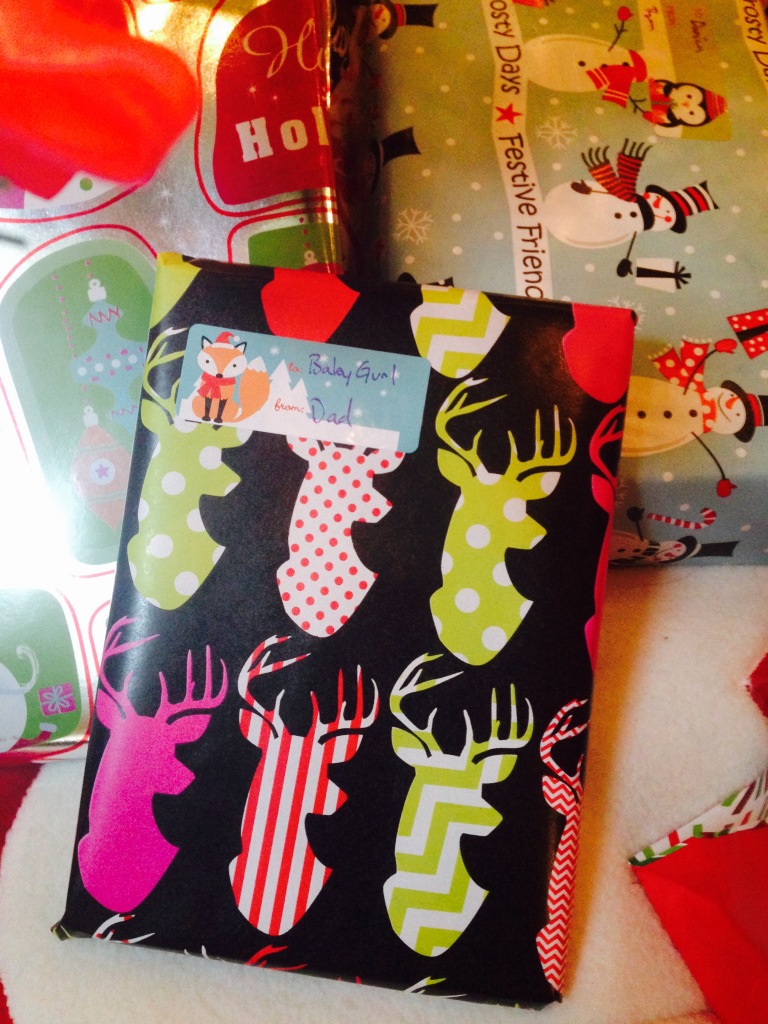 I mean…. right?
Baby girl, all I want for Christmas is you. But postponed, obviously, because I want you to cook nice and healthy in there for a little longer. We love you so much and just CANNOT wait to meet you. And I cannot wait for you to meet your dad. He's kind of the best. And I'm pretty sure the two of you will melt my cold, sarcastic heart beyond repair or recognition. See you soon, baby girl.