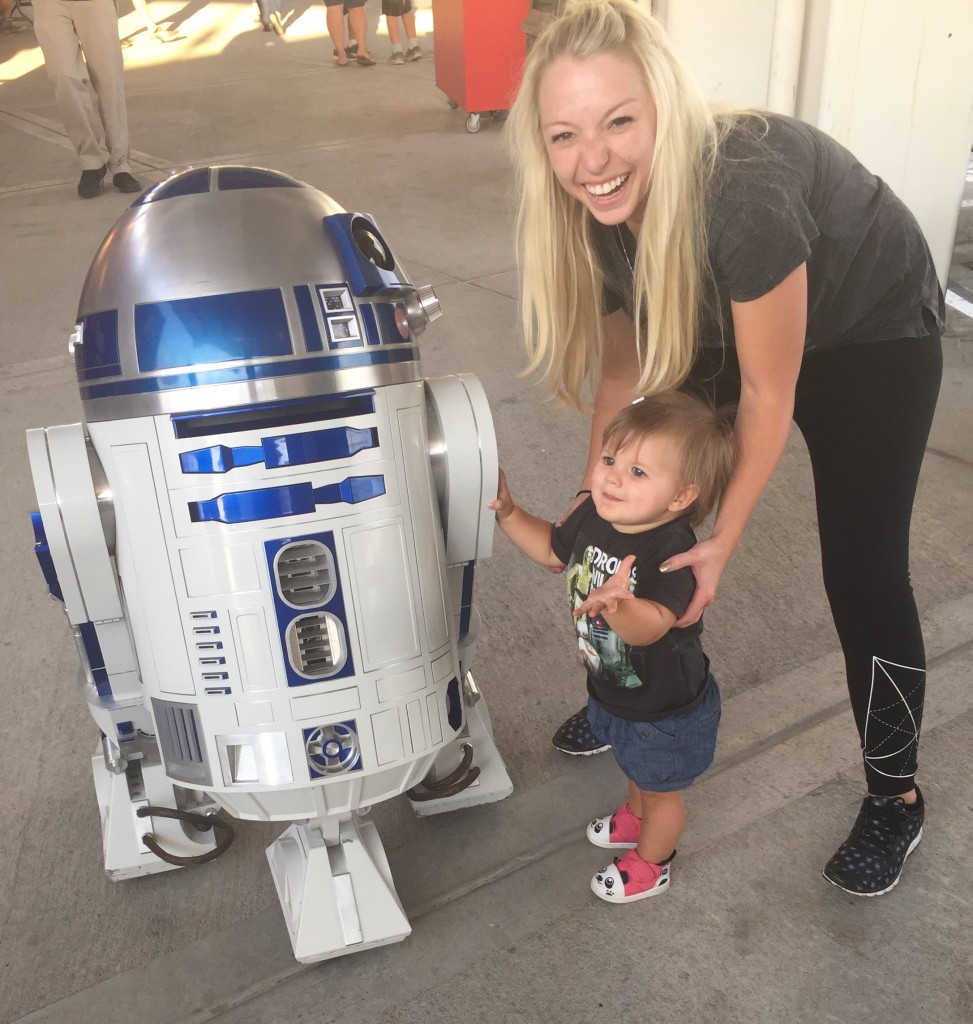 August was nuts, just top to bottom. Just highs and lows and fun and exhaustion. With a Disney trip in the dead center of the month, all of time just kind of revolves around it. The weeks leading up to the trip were incredibly busy with packing, preparation, and especially doing lots of work to allow me a full week off. For the first time every I actually got EVERYTHING checked off my to-do list before we left (and this was 100% due to my mom taking Reese basically the entire day before departed). This ended up being the hugest blessing, because the trip was ROUGH.
Disneyland pregnant is no joke, of course. My hip pain has showed up much earlier than it did with Reese (none of the SPD "lightning crotch" yet, thankfully!), it was very hot, we did a lot of walking, the road trip there was a nightmare due to the California wildfire shutting down I-15, and the pregnancy complications I had at the beginning of the month resurfaced while we were there due to exercise and stress and exertion. We still had a great time and Reese was more fun than ever! But coming home was really nice and I desperately needed the routine again in my life.
Also – back to school – thank you universe. Not only does it bring some great school supplies into my employ, but it also gets these YOUTHS out of my way. Now we can all return to the mall, to Target, to weekday matinees, without all of these kids and obnoxious teens running about.
I love back to school. I love the fresh start and the blank notebooks and the back to school pics! I'm excited to hang on to these last few weeks of summer, with fewer crowds and milder temperatures. But I'm even more excited to bust out my Sweater Weather Bath & Body Candle and rock the pumpkin spice everything. We're not that far away you guys.
So with just a few days left of August I want to GBOMB and remember it, excited and ready to move on to September.
Good
I don't want to jinx it, but I tried a new and different schedule with Reese this week when we got home from Disneyland and it appears to be working so far! It involves waking her up earlier, putting her down for a regular, semi-strict nap time, and solidifying our bedtime routine and time. Please lord let this stick.
We finished Stranger Things on Netflix and started Homeland on Hulu. Life is just better when you have a new show to watch.
THIS TALK. My study topic on Monday was Gifts of the Spirit and on Tuesday I just kind of wanted to keep studying it before moving on to the next chapter (I'm working my way through the Gospel Principles manual), so I just typed Gifts of the Spirit into LDS.org. This was the first talk that came up – random 2002 talk from Elder Hales. Not only was it super cool about spiritual gifts but PER USUAL had about 20 other things I needed to hear that weirdly don't seem related to spiritual gifts but just come with this talk. Isn't that always how it works? Crazy. But a great talk with a ton of gold nuggets.
On a similar note we're just a handful of weeks away from General Conference!
Back to School was kind of a little bittersweet for me last year, as it was the first time in literally 20 years that I hadn't gone "back to school" in the fall. This year I'm pleased to announce that there's no bitter, just sweet. I've built something pretty cool for myself and my family in the last year and I know I'm where I'm supposed to be right now. That's a good feeling.
After 5 years of marriage and road trips we FINALLY completed all 7 Harry Potter audiobooks. I can now proudly say my husband has "read" them all! We promptly moved on to The Hobbit, with the Fellowship of the Ring trilogy to follow because, let's be honest, I owe him one. Or seven.
Sometimes letting go of something is actually more initial work than holding on to it. But I finally discovered that doing the work and letting something go feels so so peaceful and right. Is this growing up? I guess so.
I'm figuring out this online grocery ordering thing and it's a game-changer. Post forthcoming.
We only have a few more items on our Summer Bucket List, and I think we'll knock them out here in the next couple of weeks and embrace fall with open arms.
I got so far behind on Bach in Paradise and I spent a significant portion of this week trying to frantically catch up and OMG cringing.
The Beard asked me to make a spreadsheet schedule of all the BYU, Utah, and Tennessee football games this season. I loved it. I'm also excited about the barbecues we're planning with our friends and family for most of these games!
I saw a sign for one of the seasonal Halloween stores this week EEEEEEEEEE!
Bad
The Beard's birthday is a month away and I'm still juggling about 6 different ideas and potential plans – with no resolution in sight. It's 30! That's a big one! I gotta make it memorable!
"Taking it easy" sounds fun and all but turns out it sucks and I hate it and I'm terrible at it.
Pregnancy acne. WTF.
I am in such a hair rut. I never want to do it and it just always looks limp and lame.
My pantry (and let's be real, my entire kitchen) is such a disaster. Like stuff falling off the shelves, things thrown in haphazardly, potatoes sprouting limbs… It's just a looming item on my t0-do list for the last couple of weeks.
Evan makes my skin crawl with embarrassment, creepiness, disgust, every negative emotion.
On My Brain
Am I due for a hair cut or color change? Because of the aforementioned rut, it's been on my brain constantly.
My friend Bon shared this 8 Minute Memoir thing and I think it sounds pretty awesome. There's something about the teacher in me that makes me want to do all of the challenges and assignments. It might also be a good way to keep some content fresh and non-pregnancy related.
It's a constant struggle to not just blog the list of 30 pregnancy topics that have been swimming around my brain since I found out I was pregnant. I think I ~will blog all of them, but I am going to try for some balance. They say to write what you know, and what I know right now is being pregnant and having a toddler. But that's not all I know.
I have a lot of feelings about the BYU Honor Code changes for students who leave the Church. I don't want anyone to have additional stress and challenges and isolation when they're clearly going through what is likely one of the most traumatic periods of their lives. To have their academic and social life completely upended and disturbed because of a religious change definitely seems extreme, especially to people who are on the outside, or even the friends & family of the person leaving the church because they're certainly worried about the support system and environment around their loved one. At the same time, I know what I signed when I applied and agreed to attend BYU. I knew what I was getting myself into, and so do they to be honest. It's a Church school, supported and subsidized by member tithing, with very high but very clear standards. It isn't for everyone, and it isn't an easy place to have doubts or to fit in if you aren't fully committed – that's for sure. It can't be easy to leave the church, and I'm sure it's easy to feel you're being discriminated against, but I mean… come on. *You're* the one who changed the game, and BYU most likely isn't the place for you.
Do you ever just stop and think about what it's gonna look like when Trump or Clinton is president? I'd be lying if I didn't say a part of me thinks that it would be hilarious and satisfying if Trump became president and wasn't quite as terrible and crazy as everyone predicts. It's a tiny part, but it's there. I like Clinton slightly better and I think she's got the real shot, but I just don't know that I am ready for the 4 years of Mormon vitriol that is ahead. It just all kind of sucks.
I feel like August brought me a long way. I feel like I'm emotionally very different and older than I was in July. It's also been an incredibly stressful month, so I think it's time for me to start Parks & Rec over again from the beginning