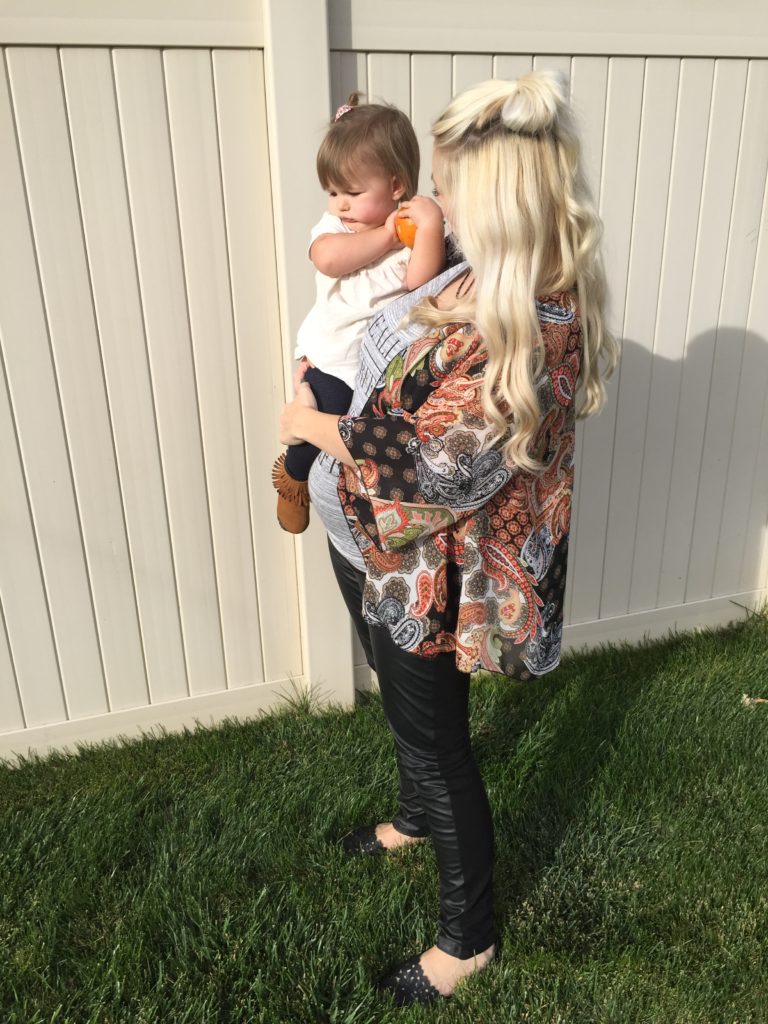 It's been really fun to take more pregnancy outfit pictures this time around. There's something about not having to get ready every day that makes me more excited when I ~do get ready. Most days, yeah. It's a tee and leggings and sneaks to Target. But a couple of times a week I spend some time browsing Pinterest or pregnancy hashtags on Instagram and come up with some ideas for new outfits to try. Today I'm teaming up with a few other pregnant blogger friends to share our favorite Maternity Style looks right now.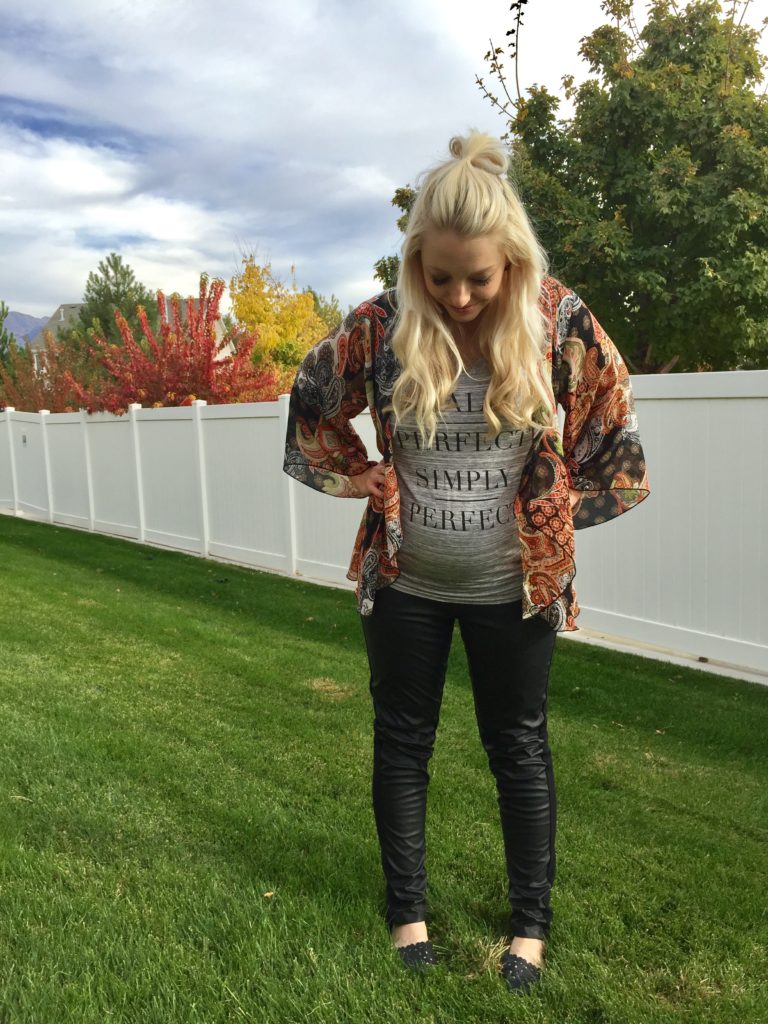 Kimono: Nordstrom Rack, Tee: H&M Maternity, Leggings: H&M Maternity, Flats: Target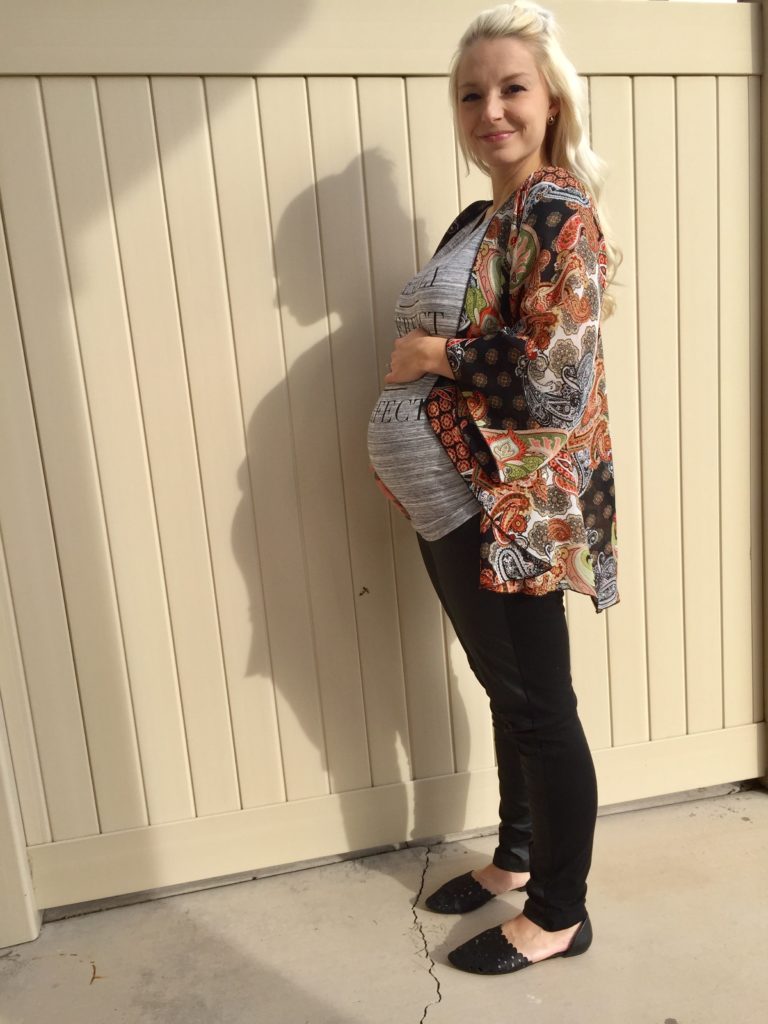 One maternity fashion staple I noticed cropping up all over my pregnancy style pinboard was loose & drapey kimonos or sweaters. Generally, I'm pretty minimalist in my outfits. I don't like layers, especially when I'm pregnant because I feel constricted and hot and fat and claustrophobic. But I also catch sight of my muffin top and back fat so it's kind of a toss up. I realized that's why a lot of these stylish girls are wearing long and drapey layers and looking so good in them – they elongate as well as masking the weird side/back areas of pregnancy. If you're one of those girls who can't relate to this because you only put on a little weight in your bump then just don't even talk to me.
The other nice thing about kimonos/sweaters/dusters/etc. is that you can buy and wear them non-pregnant. I've had this one since 2011! I've noticed a lot of maternity retailers offer sweaters and kimonos and stuff that are "maternity" but, like, if you don't need to belt it over a belly… you don't need it to be "maternity" ??? Seems like a racket to me.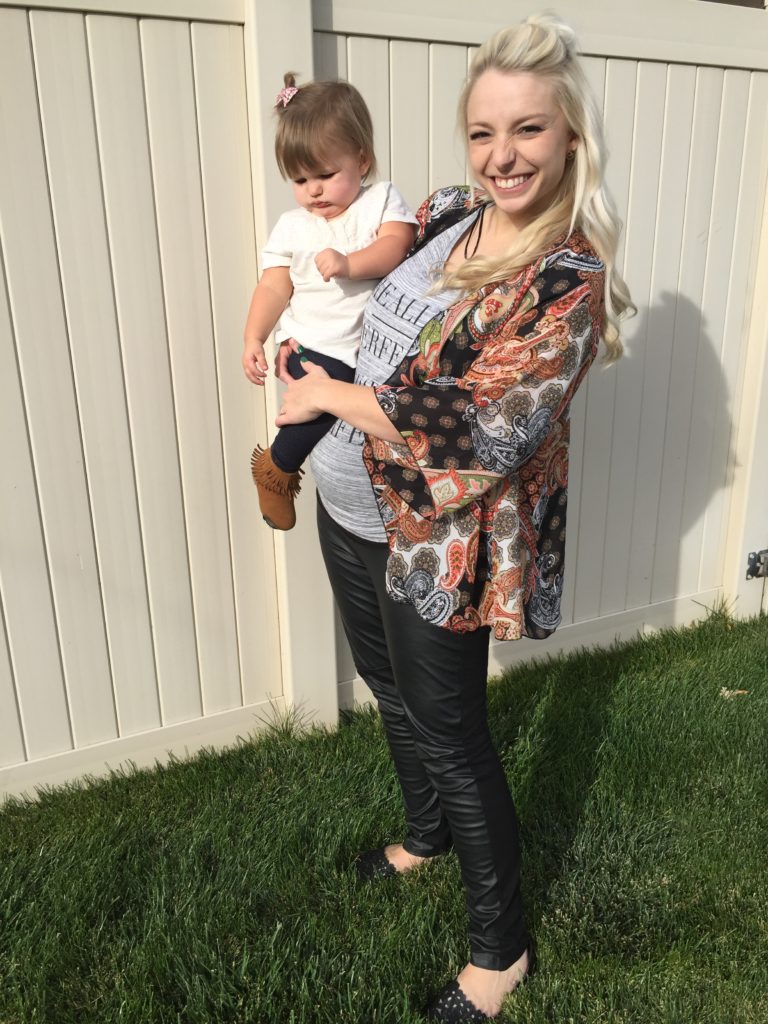 When I first found out I was pregnant in June I took to the internet for some maternity clothes shopping and it was awesome. Fall/Winter/Spring stuff was still on deep clearance, so I snatched up pants, sweaters, and best of all – some fly leather leggings. I know the concept of a pregnant girl in leather leggings is ridiculous but that's part of why I just love it so much.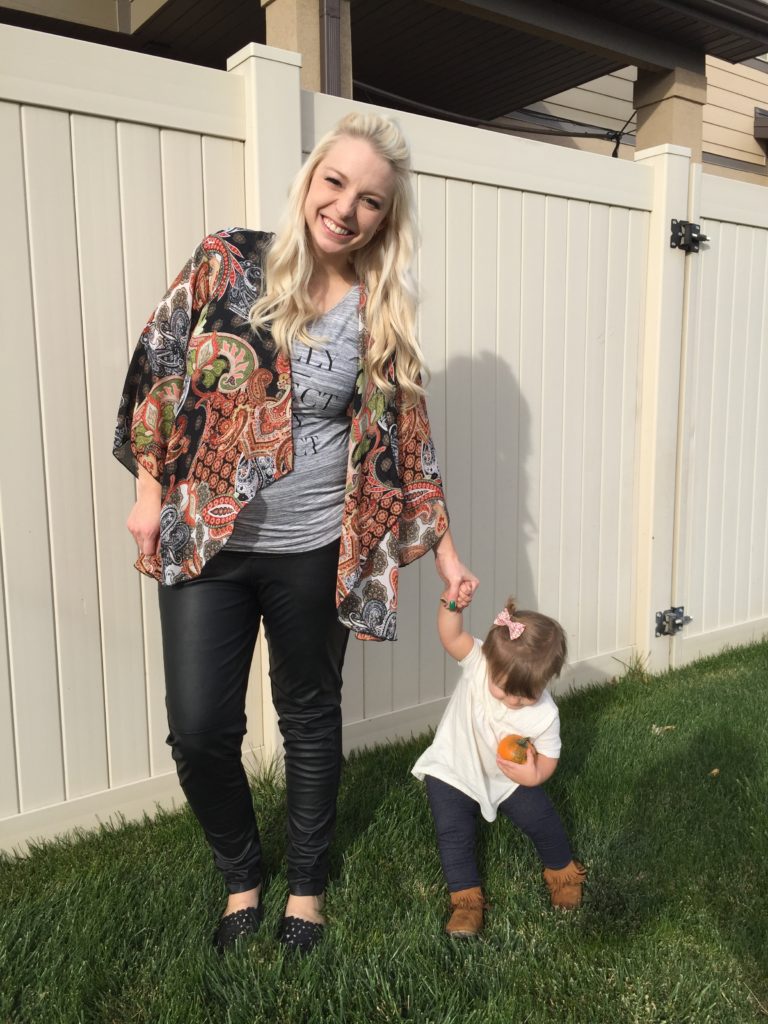 Graphic teeeeeeeeeeees. I love them. But can we talk about how the options are so limited if you don't want something that says "preggers" or an overdone joke about how it's a ninja or a dinosaur or a watermelon? Is it too much to ask that a maternity graphic tee be just a regular graphic tee in a maternity cut? Please and thank you. (ASOS is best for this, just fyi.)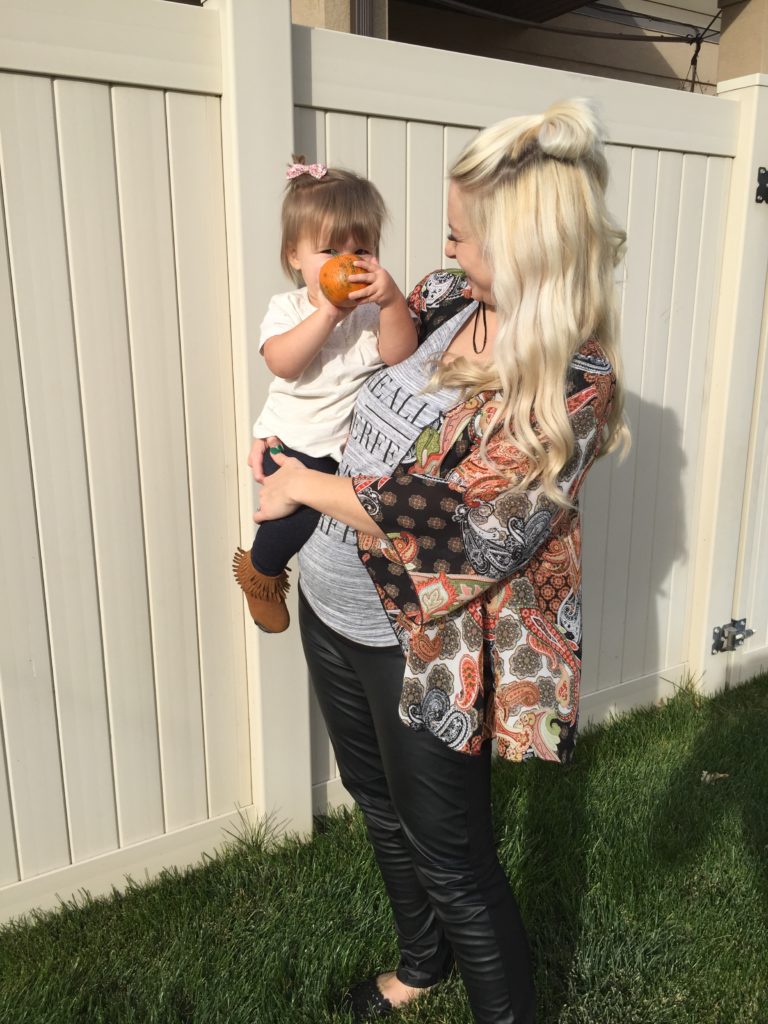 Don't worry, I'm getting my hair done this week. Eek. 
Reese is such a tornado these days that it's practically like a Bigfoot sighting if I can get a picture of her where she is A. Looking at the Camera, B. Smiling, C. In the entire frame. Even with her cool Uncle Mitch helping with these photos she was still so distracted by Glen Coco and refused to move the lil baby pumpkin from in front of her face. (??) We have family pics in a couple of weeks and I'm just praying now that we can get some good ones of her. Lord Beer Us Strength.
Check out how the other pregnant ladies rock their maternity style: