When we got married I got a few different cookbooks. I kept them with the intention of using them, but also thought "Well. Pinterest exists. So…" Surely the age of the cookbook was over, when every recipe you could ever want (and plenty you don't) are all online at the click of a button.
The first Chrissy thing I ever made – Cheesy Cheeseless Eggs & Garlic Roasted Bacon
I still used a couple of my cookbooks, especially when I was feeling uninspired, but for the most part I did my recipe hunting on Pinterest. I struggled though! I had an easy time finding 100 things that looked good, but a hard time making the decision. Plus I had to click through, read their life story, pass a bunch of ads, THEN find the recipe. Then I had to go find it again when it was time to make it. I fell off the wagon and pretty much only made new things when it was a holiday or dinner party.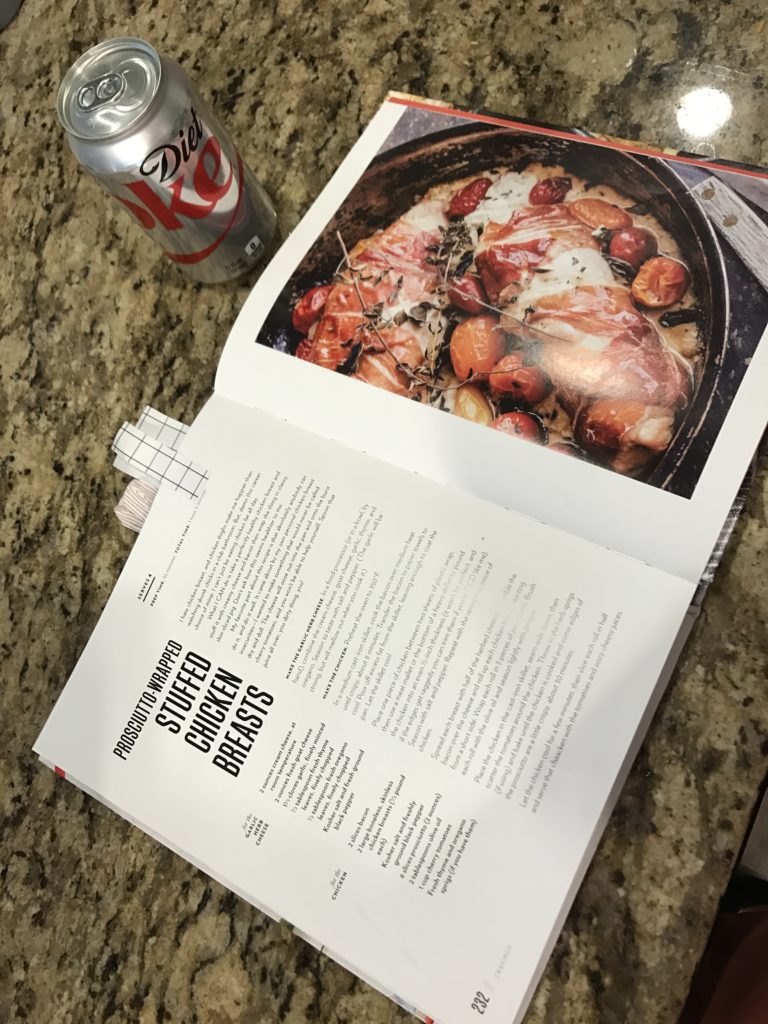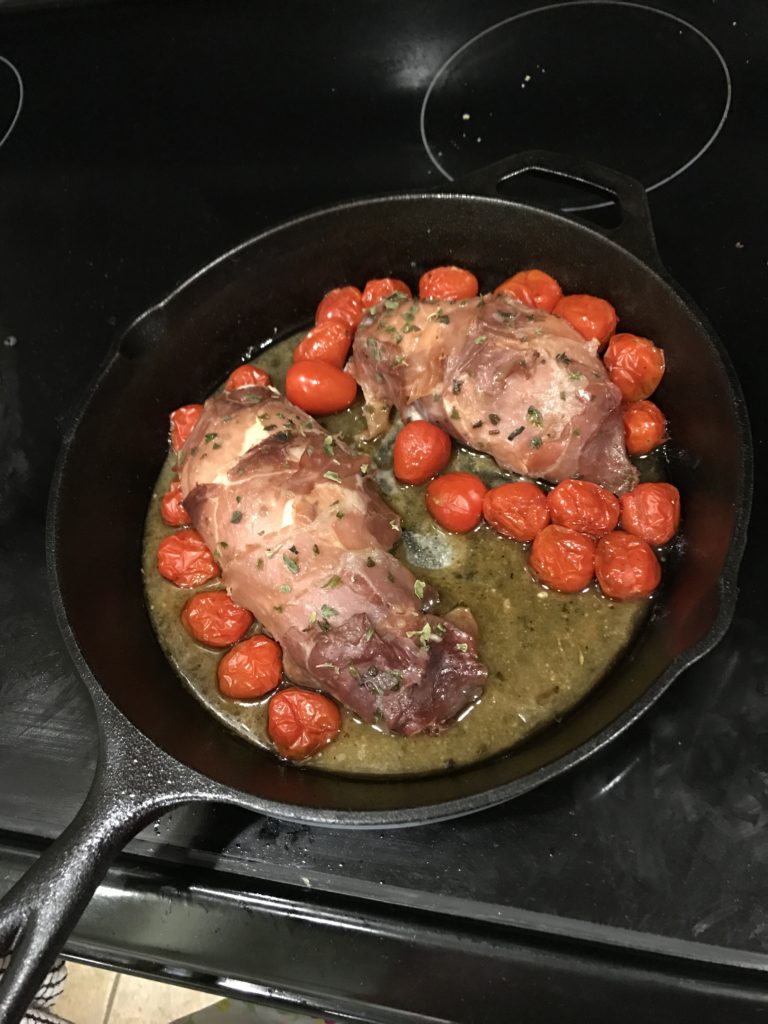 The fanciest thing I've ever made – and it was AMAZE. Proscuitto Wrapped Stuffed Chicken Breasts
Then like any good millennial, I fell prey to the trendz. I have always liked Chrissy Teigen and then decided, like much of the internet, that I *needed* her cookbook Cravings. I got it for Christmas last year, along with Damn Delicious (Chungah Rhee is a food blogger and then published her own cookbook of her favorite fast & easy recipes). And it honestly changed everything for me! I know it sounds dramatic but it's true!!!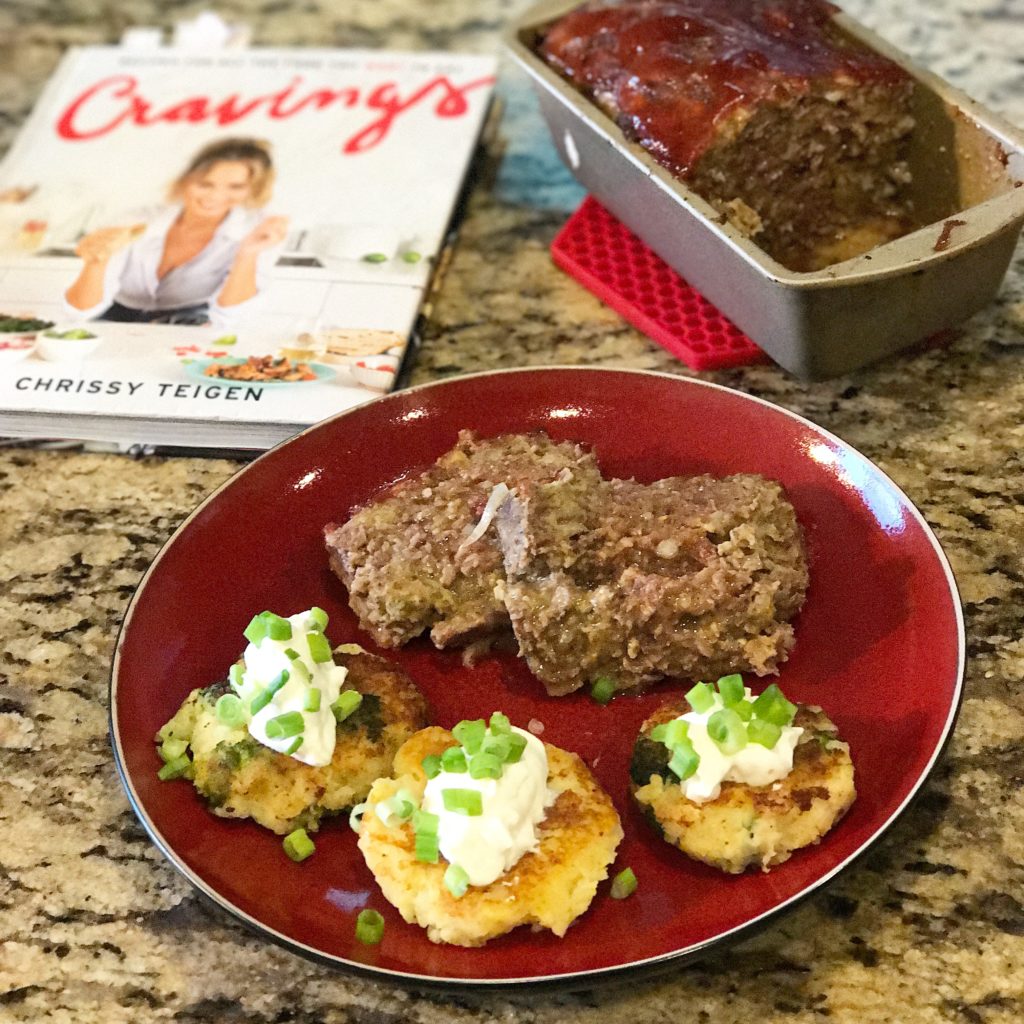 Spicy Italian Meatloaf (good) and Potato Cakes (SOOOOO GOOD, one of my top 5 recipes from the book)
My word for 2017 was HOME. I wanted to spend more time at home, feel more comfortable at home, and save up money for a home. Cooking and eating more at home fits squarely in each category. And I was determined. One afternoon between Christmas and New Years, Ryan and I snuggled up on the couch with a stack of post-it flags, our stack of new cookbooks (he got a couple too) and a spreadsheet. We went through and flagged what we wanted to make, and I started logging them by type, shared ingredients, and theme. Such a freakshow Danica thing to do but it was so fun!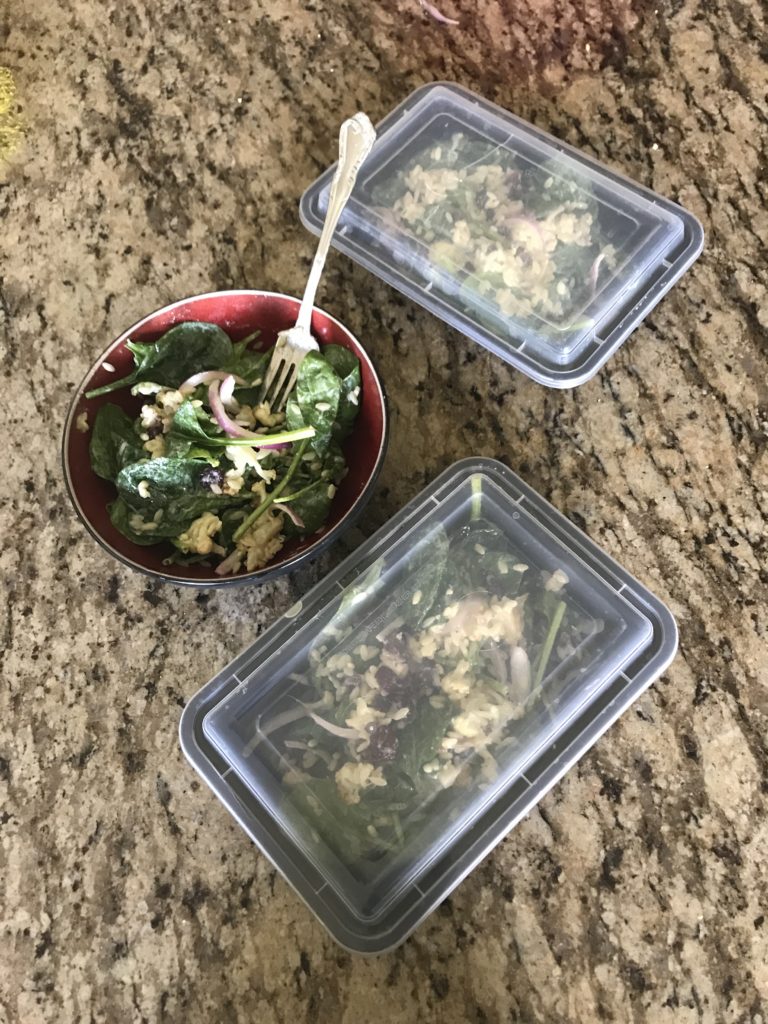 (Roasted Cauliflower, Feta, & Orzo Spinach Salad – A FAVE)
I started doing it. I was excited to cook. I was excited to try new things that I would have NEVER tried had I just scrolled past them on Pinterest. I was excited to make something Ryan wanted, but I would have never known had we not flagged it together.
I slowly learned to cook. Granted, I'm still not great. But I have learned skillz you guys! I now know how to make fluffy and delicious scrambled eggs, cook a moist chicken breast, whip up my own light alfredo, dredge and batter fried chicken, toss several crowd-pleasing salads, bake buttery rolls, and stew a homemade chicken noodle soup that cures the common cold basically. I have learned a lot about different cuts of meat, the benefits of different spices, how to use a meat thermometer, and several new methods for baking & cooking. I have practiced meal planning that saves me money and reduces food waste.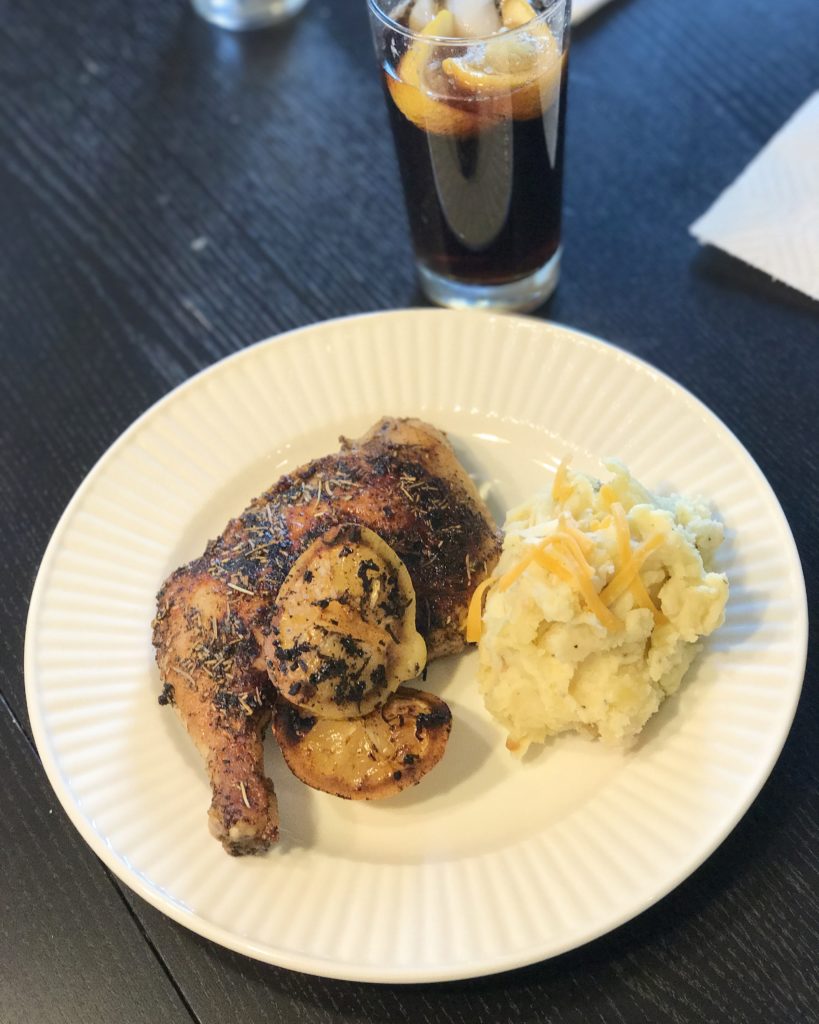 John's Brick Chicken with Charred Lemon
I ~definitely had a few failures, but for the most part I have succeeded and my confidence has grown with each new recipe. I know for a lot of people this is just normal. But for me it has been huge. It taught me so much about food and goals and the kitchen and my family and money and failure and trying.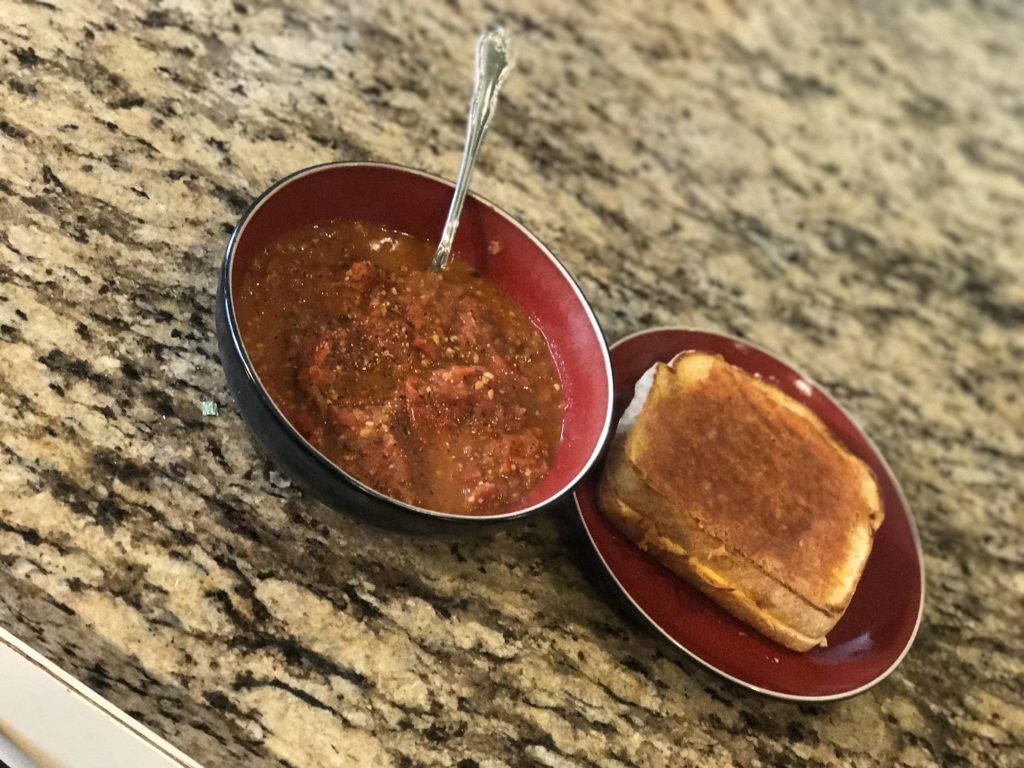 Roasted Tomato Soup – a new comfort favorite and EASY
This has been my own Julie & Julia journey!!!
I want to keep it going. I have worked my way through Chrissy Teigen's Cravings, and Chungah Rhee's Damn Delicious this year. I haven't done every recipe, but I have accomplished most of them – all the ones I wanted to anyway. I saw how having a physical, beautiful cookbook changed the game for me, and I want more!!
Here are some ideas of cookbooks I want to try:
Lauren Conrad's Celebrate
Barefoot Contessa At Home
How to Be a Domestic Goddess: Baking and the Art of Comfort Cooking by Nigella Lawson
The Complete America's Test Kitchen TV Show Cookbook
The Everygirl's Guide to Cooking
Giada's Family Dinners
The Pioneer Woman Cooks
Rachel Ray 365
Deceptively Delicious: Simple Secrets to Get Your Kids Eating Good Food
Thug Kitchen: The Official Cookbook: Eat Like You Give A F*@%
Back in the Day Bakery Made with Love
Martha's American Food
The Can't Cook Book: Recipes for the Absolutely Terrified
Seven Spoons
Worldwide Ward Cookbook
Smitten Kitchen
Date Night In
Love and Lemons
The Pioneer Woman Cooks
I want cookbooks that do more than just give me directions. I like some story and personality in it, I've realized. Beautiful, appetizing pictures also make a huge difference.
I might even try checking some cookbooks out of the library – who knows! I just know that having an actual, helpful, beautiful, physical cookbook to look at made a world of difference for me. And I hope 2018 is chock full of that.